While all eyes were on the Dobbs v. Jackson Women's Health case (limiting abortion after 15 weeks of pregnancy) the evening before the Supreme Court hearing, the House was hearing about and debating a sinister plan to implement a national immunization record tracking system.
Called the H.R. 550 – Immunization Infrastructure Modernization Act of 2021, the measure was debated for just 40 minutes, and the recorded vote revealed all Democrats and 80 Republicans voted in favor of passage – 294 in total.
The Act was sent to the U.S. Senate where it will be evaluated by the Health, Education, Labor & Pension Committee (known as the HELP Committee).
This measure is one Senate vote away from becoming law.
What does it do?
The bill appropriates $400 million to develop and implement a national immunization record tracking system for use federally, by states, by local municipalities, by US territories and even sovereign nation tribal areas.
The purpose of this bill is clear:
To strengthen the current vaccine mandates.
To add a layer of enforcement to the mandate which may result in refusing access or services to non-vaccinated or non-boostered Americans.
To provide a mechanism for federal, state and local governments to access your vaccine status that would easily lead to the introduction of a vaccine passport or no-fly list.
You read that right…this would lead to the introduction of a vaccine passport or a no-fly list.
What happens next?
If a national immunization record tracking system is passed by the Senate, it would be implemented in less than 12 months. Once freedom and privacy on this issue is lost, it will be nearly impossible to regain.
The time to act is now.
What do we do?
It is important that we take this opportunity to let our Senators know our thoughts and concerns about the use of our tax dollars for this critical piece of legislation. There are two messages that can be sent. Look at the map below to see which message you will send.
Top 5 Myths Busted about the Immunization Infrastructure Modernization Act
The map below identifies which message you will need to send.

Here is what you can do in three easy steps:
PRAY: Seek the Father for wisdom on this issue and your response.
TAKE ACTION:

If you live in a YELLOW state on the map:

If you live in a yellow state on this map, your role in addressing these Senators as a constituent is strategically important.

Yellow states, click here to take action.

If you live in a GRAY state on the map: If you live in a gray state, with no Senator on the HELP Committee, your message will be different but still critically important.

Gray states, click here to take action.

NEXT, MULTIPLY YOUR VOICE: Forward this notification to

five

of your friends that you believe would take action!
Praying and working together, we can make a difference and make our voices heard in the Senate!
Here are more action steps citizens can take to fight back.
[Thanks to Intercessors for America for making us aware of this!]
Friends, we need to awaken and pray that we can stop vaccine tracking.
This Casting Crowns Christmas song is so perfectly relevant.
I extend an invitiation to my Subscribe List and the periodic newsletter called "The Awareful Prayerful". We are seeing evidence that I will not be welcome on Facebook much longer. You can join me on Instagram or you can Bookmark or Make Deep Roots at Home Your Browser's Home Page. Thank you!
"Therefore you also must be ready, for the Son of Man is coming at an hour you do not expect." ~Matthew 22:44
I am only on FB now by the grace of God… if you want to stay connected, here is one way…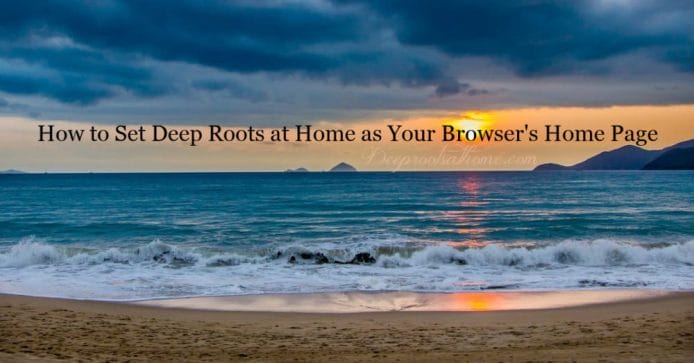 You can also find me on Instagram and Telegram.
Jacque's Update: Facebook and social media platforms are cracking down on Conservative/holistic health content. Many of you have complained that you never see our content in your news feeds on social media. There's only one way to fight back — and that's by joining my FREE newsletter. Click here.
©2023 Deep Roots at Home • All Rights Reserved