As a child, I was continuously told that I had "Attention Deficit Disorder". Had I known that there was a connection between my attention span and artificial dyes I was eating and drinking, I may have been a completely different child.
[This excellent guest post is by Nathan Cloud at We Help Each Other, because we both want your family to thrive!]
Artificial food dyes are derived from petroleum by-products or coal tar and offer no nutritional benefit to foods. Evidence of their negative impact, especially on children, has been mounting since 2011. According to the FDA data, the U.S. has seen a five-fold increase in consumption of artificial dyes since 1955, with Red 40, yellow 5 and yellow 6 accounting for 90% of all dyes used.
It's not just about "unhealthy" processed foods. I just recently found out that it is common practice among citrus growers to dye oranges orange! Due to weather conditions, sometimes the oranges will ripen with green skins. The FDA does not require labeling of these food dyes, since they are only applied to the skins.
Think twice about zesting that orange.
Some other foods and products that can be artificially-enhanced include: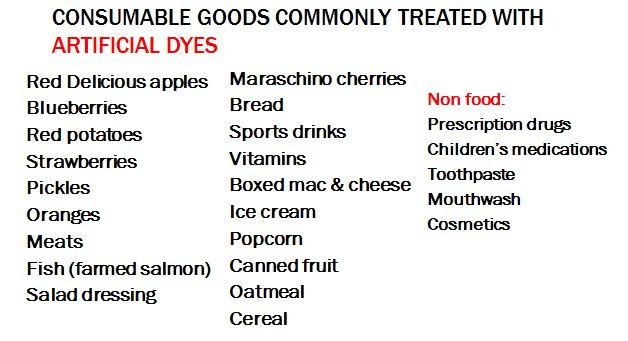 I want to thank the FDA, because without them I would not be as inspired to make my own food!
Bright Artificial Food Dyes Target Children
Researchers found that here in the US more than 90% of child-oriented candies, fruit-flavored snacks, and drink mixes made by such companies as Kraft, PepsiCo, and General Mills contain artificial dyes. The FDA has refused to ban artificial dyes, require warning labels on dyed foods, or inform consumers about the effect of these unnecessary chemicals – even in light of the strong scientific evidence that they cause behavioral problems.
ABC11 News: It took six years of doctors visits to finally unlock the mystery of Garrett's tantrum.
A lawsuit was filed against Mars in 2022 that argued its Skittles candies are "unfit for human consumption" because they contain titanium dioxide, "a known toxin"– banned for food use in the EU as of Feb. 2022. Titanium dioxide is a common artificial colorant in food that makes colors appear brighter or whiter. It's the main ingredient in white food coloring and very frequently found in large amounts in cakes, icing, sunscreen and cosmetics. In 2016, Mars, as well as General Mills and Kellogg's, agreed to phase out of all artificial food dyes, however the promises never materialized.
Mars did remove artificial food dyes from its European products due to the tighter restrictions. In the EU, foods that contain artificial dye must have a warning label, so most companies choose to reformulate in order to avoid putting a warning label on products. (source)
Major food companies (Coca-Cola, General Mills, McDonald's, and PepsiCo) are selling food dyed with Yellow 5, Yellow 6, Red 40, and other synthetic food dyes in American while selling synthetic-free, dye-free versions of the same foods in Europe. 6 US Food Products w/ Completely Different Ingredients Overseas
"Yellow #5" looks like it's just 'one ingredient" but in reality, it represents a very long list of chemicals.
An accurate label of "yellow #5" would look something like this…
"..the evidence for carcinogenicity, genotoxicity, and hypersensitivity, coupled with the fact that dyes do not improve the nutritional quality of foods, indicates that all of the currently used dyes should be removed from the food supply.." ~PubMed Study
Some Common Artificial Food Dyes:
Blue#1 – Crosses the blood-brain barrier and actually enter the brain. Linked to increased risk of kidney tumors and neurotoxicity. Absorbed directly into the bloodstream. Used in foods such as Trix cereal, Jolly Ranchers, baked goods as well as cosmetics and medications.
Red#40 – Directly disrupts gut barrier function, alters gut microbiota composition, and promotes inflammation. Accelerated appearance of tumors in mice.
Caramel coloring – Manufactured by heating ammonia and sulfates under high pressure, which creates carcinogenic compounds. Found in bread, brandy, rum, whisky, colas, chocolates, cookies, cough drops.
Yellow #5 and yellow#6 – Used widely in pet food, mac & cheese, pickles, cosmetics, baked goods, pharmaceuticals. Have been found to be contaminated with benzidine. When fed to rodents, they exhibited genotoxicity, meaning their DNA was damaged. Linked to hypersensitivity reactions in children and severe allergies in adults and children.
Carmine – Made by boiling cochineal bugs. Found in foods such as ice cream, candies, lipstick, and strawberry yogurt. It hasn't been linked to many negative health effects other than occasional allergies and icky feelings of knowing that the food you are eating has bug juice in it.
Why do the food dyes have to be a carcinogenic cocktail of petroleum tar?
Natural Coloring, Using Real Food
Red – raspberry, strawberry, pomegranate juice
Yellow – Turmeric, onion skins
Green – matcha green tea, kale
Purple/ Pink – blueberries, purple sweet potato, concord grape
And now for a recipe!
Julia's Purple Sweet Potato Pineapple Pops
Making homemade, delicious, and colorful sweet treats doesn't need to be difficult.
1-2 purple sweet potatoes
6 baby bananas (2-3 regular)
3/4 cup fresh pineapple
Peel and slice your bananas, place them in the freezer for at least 6 hours.
Boil the purple sweet potatoes and set aside to cool.
Once the sweet potatoes are cooled, peel the skins off and place into a high speed blender (with tamper) or food processor.
Add the slices of frozen banana and pineapple into the blender/ processor and blend until smooth.
Pour into a Popsicle mold and freeze for 4-6 hours before eating.
Enjoy!
Thanks to Nathan Cloud!
***For the Full Spike Protein Protocol (including NAC) to protect from transmission from the "V" and to help those who took the "V", go here.
©2023 Deep Roots at Home • All Rights Reserved