Dr. Mercola encourages a not-so-well-known single strategy that everyone should remember if there is a sudden onset of acute respiratory infection.
Right now, it is extremely wise to stay out of the hospital: The Hospital Protocol Is What Is Killing Covid Flu Patients
By having a desktop nebulizer and a few inexpensive things on hand (and doing a dry run of this protocol), you will be ready if/when you need to use it and can nip any infection in the bud.
Ideally, nebulizing (with Hydrogen Peroxide and Lugol's Iodine) is most effective as a 'mono treatment' if you do it the same day you have a hint of the onset of flu or Covid associated symptoms (scratchy throat, cough, slight congestion etc.).
Dr. Mercola Lists Supporting Supplements
1 minute. Dr. Mercola's protocol:
Peroxide Nebulization and COVID Resolution
Dr. Mercola points to documentation from two medical doctors who have used nebulized peroxide extensively in their practices: Drs. Thomas Levy and David Brownstein.
Dr. Thomas Levy is someone I really enjoy reading. A great story about Hydrogen Peroxide (HP) Nebulization to treat COVID explains exactly how easy and powerful nebulizing HP is – wherever you are!
In summary, Dr. Levi took a trip to Colombia before Covid in 2019, where he treated his wife's friend with an acute febrile respiratory infection using the nebulizer and 3% HP he had brought with him on the trip. He left it with her and soon the pandemic hit. Months later, he and his wife returned to Columbia to find the woman had used his nebulizer and 3% HP to successfully treat some 20 different individuals with COVID infection. "Of particular note is that some of the patients had such advanced infections that severe respiratory difficulty was apparent. In a similar setting in the United States early in 2020, all of the patients having such severe shortness of breath would have been promptly intubated and given mechanically-assisted ventilation on respirator machines."
In the event you are an independent thinker, can follow simple directions, and want to stay out of the hospital with early prophylactic or acute use, this anecdotally illustrates the uncomplicated effectiveness and reliability of nebulizing 3% HP.
More Evidence Supporting Saline & Peroxide Nebulization
Dr. David Brownstein with other co-authors, published a study on nebulized peroxide for COVID-19.
"A total of 107 COVID-19 subjects utilized the nebulized solution. They reported no adverse effects. We have been using nebulized saline/hydrogen peroxide at this concentration for over two decades in his practice. Is nebulized peroxide diluted with saline, with or without iodine, dangerous? No. There's no evidence to suggest there's a danger to this protocol, unless you radically violate recommendations on dilution." ~Dr. David Brownstein
Aside from having antiviral effects, nebulizing peroxide will also improve oxygenation and breathing in general, and can be very helpful for smokers. This makes sense as peroxide breaks down in your body into water and oxygen. Brownstein believes it also has a detoxifying effect on the lungs. (source)
Note: nebulizing hydrogen peroxide is contraindicated in those with Down Syndrome.
The Mercola Basic Peroxide Recipe:
Note: to optimize your benefits, be sure to obtain an electric tabletop nebulizer. Dr. Mercola points out, the battery-driven handheld versions aren't as effective. In nearly all cases where patients were not getting better, they were using a small handheld nebulizer. Once they got the more powerful version that can drive the peroxide deep into the lungs, the treatment worked as it should.
Resources:
The nebulizer we use sold out last month, but this nebulizer appears identical.
Make Your Own Saline: Dr. Mercola says you could make your own by mixing one teaspoon of unprocessed salt (such as Himalayan salt, Celtic salt or Redmond's real salt) into a pint of water. This will give you a 0.9% saline solution, which is essentially the concentration found in body fluids. (source)
How To Nebulize:
Read the nebulizer instructions. Nebulize 2-5 times a day for 3-5 minutes or longer if possible. Put on the mask and breath deeply through both nose and mouth, alternately, to get the fine mist into the deepest parts of the lungs, but also into the sinus cavities where the mist can kill the invader. Hold it for a second before exhaling. Listen to your body and continue more or less often as needed and until you are fully recovered. This method has saved many, many lives.
Use of Lugol's Iodine:
Dr. Brownstein outlines use of nebulizing Lugol's here: "If you're using 5% Lugol's solution, simply add one drop to your nebulizer after filling it with the diluted peroxide solution. If you're using 2% Lugol's solution, which is available over the counter, add two drops. Of course, this should be done with a doctor's consultation."
Lugol's iodine 2% is unique in its formulation as it has Potassium Iodide (10%) along with Elemental Iodine (5%) mixed together with distilled water. This is what makes it so effective. Lugol's Iodine solution was developed in 1829 by Jean Guillaume August Lugol, a French Physician, as a cure for Tuberculosis.
"The Spirit of God has made me, and the breath of the Almighty gives me life." ~Job 33:4
***For the Full Spike Protein Protocol (including NAC) to protect from transmission from the "V" and to help those who took the "V", go here.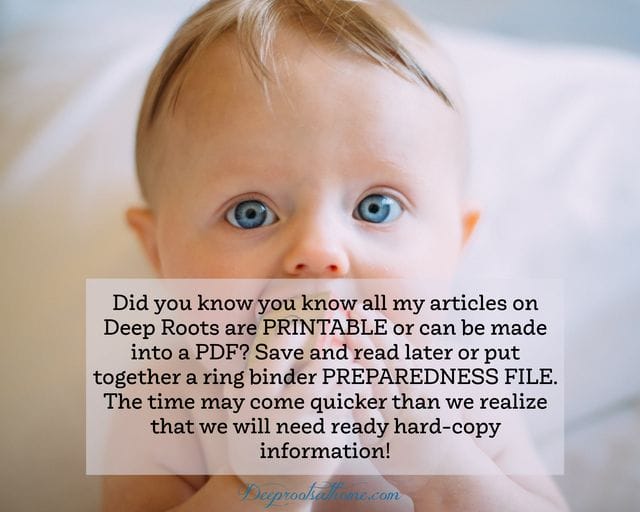 Medical Disclaimer:
I am no longer a practicing medical professional, and I am not doctor. I am a mother. I do seek scientific confirmation of the safety and effectiveness of the herbs and remedies I use. Using remedies is a personal decision. Nothing I say on this blog is intended to treat or prevent disease. Consult your own doctor.
©2023 Deep Roots at Home • All Rights Reserved