Last week, hurting for families dealing with the worsening formula shortage, I offered these 2 excellent formula recipes to help give options.
In my continued search for different nutritive formula options since babies all have different need, my mind kept going back to goat's milk. Back in the 1990s a good number of my friends who adopted used a raw goat milk-based formula because we had a wonderful local farm that could keep them supplied. All those children, which I knew personally, thrived!
Goat's milk prompts fewer allergic responses than cow's milk and is more easily digested and absorbed. (source) For these reasons, its consumption is increasing all over the world.
Goat milk formula is also very similar in nutritional profile to breast milk:

Goat milk formula isn't sufficient by itself, but neither is cow's milk. Fats and nutrients are always added. The recipe below adds them.
Now I have come upon a wonderful recipe based on a goat milk powder from Mt. Capra.
How This Goat Milk Formula (Below) Came To Be:
"Nearly 10 years ago, I (Joe Stout, M.S., the President of Mt. Capra) created the original homemade baby formula recipe for my daughter Liesl. Liesl, like me, was extremely allergic to cow milk ingredients and cow milk formula. Because Liesl and her younger sister Ellie are only 13 months apart, breastfeeding was not an option for most of her infancy. I put my 6 years of nutrition study to good use and worked out a recipe using common grocery store ingredients with goat milk as the protein base of the formula.
"Life for Liesl, and for hundreds of kids like her, changed for the better when she started using goat milk ingredients instead of the processed, GMO-laden, corn syrup-based, soy (estrogen-producing) commercial formulas on the market.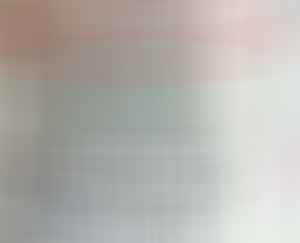 "Making your own baby formula at home is not for the faint of heart. It involves careful consideration, often a lack of support from those around you, extra work, and a perceived lack of convenience. But, the benefits of faithful preparation and commitment to the absolute health of your child however will far exceed anything you thought possible." (source)
Other Formula Options on Deep Roots: 2 Nutritious Homemade Baby Formula Recipes (tried and true Weston Price)
Since finding raw or fresh goat milk is extemely hard in most parts of the US, consider Mt. Capra Goat Milk powder which is widely available online and in local healthfood stores. Powder is also found here, here, here, and here. Find local organic goat milk by state on Farmer's Pal.
Or you can get the complete GOAT MILK FORMULA RECIPE KIT which includes methylated vitamins instead of synthetic ones. (This involves ordering alot of products up front, but then they last a long time. It would balance out with the cost of pre-made, store-bought formula.)
At this time, it is available on backorder, and I know they are working hard to keep supply flowing.
Or you can make it by sourcing the individual ingredients below:
Homemade Goat Milk Formula Recipe
INGREDIENTS in Every Bottle (Makes 8 ounces):
Use these ingredients in just ONE bottle per day:
DIRECTIONS
Wash Hands.
Fill clean bottle with 5 fl oz. very warm filtered water.
Add goat milk ghee and swirl gently till it melts.

Add whole goat milk powder, goat milk lactose, sunflower oil, grapeseed oil, and molasses and any "once daily ingredients"

except probiotics (which you add later).
Shake well.
When contents are well mixed, add cold water UNTIL TOTAL VOLUME is 8 FLUID OUNCES.
Add probiotics and shake well one last time.
Feed within 1 hour and discard leftovers (or refrigerate and rewarm in a small dish of really warm, but not hot, water. Do NOT microwave!)
To make larger batches:
9. Mix the ingredients with only half the required water. Once mixed, finish by adding the additional water needed to make the desired TOTAL VOLUME of liquid (eg 1 pint, 1 quart, etc.) Freezes well. Rewarm individual bottles in a small dish of really warm, but not hot, water. Do NOT microwave!
I do not have an affilate link with Mt. Capra, but I do like how relatively simple they made this. I pray the supply chain holds so everyone can feed their child(ren) properly.
**For the FULL PROTOCOL (including NAC) to protect from transmission from the "V" and to help those who took the "V", go here.
Formula Ingredient Overview:
Whole Goat Milk Powder
This is really where all the magic begins. Goat milk is a remarkable food in that it more closely resembles the protein, fat, and carbohydrate structure of breast milk than literally any other ingredient available. The benefits range from the nucleotide (DNA) structure of goat milk being as similar to breast milk to the presence of taurine in goat milk amounting to 20 times that of cow's milk which is, not surprisingly, the same ratio found in breast milk.
Carbohydrates are the main source of energy for baby and there is a fair amount of flexibility here. I prefer to use lactose as it is true "milk sugar". Lactose is a combination of glucose and galactose which is perfect for an infant's diet. Babies naturally produce excessive amounts of lactase, an enzyme used to digest lactose so the fit is natural. Also, lactose is really helpful in establishing Lactobacillus acidophilus (good bacteria) in the newly formed GI tract of your little one. Other good options for your carbohydrate sources are organic, raw turbinado sugar, organic maple syrup, brown rice syrup, and even cow milk lactose. Honey is not a good option as it is not recommend for babies less than 12 months old.
This is one of nature's greatest fat sources. Ghee is the clarified "butter oil" from goat milk cream and does not contain any of the allergens found in cow milk. Saturated fat is extremely important for the brain development and overall health of your growing little one. The saturated fat in goat milk ghee is high in medium chain triglycerides (MCT's) and because our goats are grass-fed, our ghee contains Conjugated Linoleic Acid (CLA) as well as important fatty acids such as lauric acid which is found in high amounts in breast milk. NOTE: Coconut oil is still a great option for the saturated fat category of the formula and can be used in the same amount as the goat milk ghee. Coconut oil was the most requested ingredient replacement question as it is unfortunately somewhat common as an allergen. We created our goat milk ghee to address this need and because this homemade goat milk formula recipe is meant to be a low-allergy option, the Goat Milk Ghee is a great tool for those little ones who are especially sensitive to the allergens found in coconut oil.
Organic High Oleic, Sunflower Oil
High Oleic Sunflower oil delivers more healthy fats, this time in the form of monounsaturated fats. High Oleic (not the cheap standard) sunflower oil is the highest source of monounsaturated fatty acids available on the supermarket shelves. Olive oil is acceptable to use here if it is high quality and not adulterated with low quality oils. Sunflower oil is also a great source of naturally occurring Vitamin E.
Expeller Pressed Grapeseed Oil
Grapeseed oil is present to deliver the essential fatty acid linoleic acid which is vital in infant nutrition. This is a polyunsaturated fatty acid that the body cannot produce on its own but is not in need of in large amounts. Commercial formula manufacturers pack their formulas with cheap canola/safflower oils that are high in linoleic acid but much higher than an infant needs for proper health. Since these oils are high in polyunsaturated Omega6 fatty acids, they tend to be inflammatory as opposed to the saturated/monounsaturated fatty acids. Since you are making your own homemade baby formula, you get to add only the necessary amount of this essential fatty acid without flooding the formula with polyunsaturated fatty acids. You won't find that level of flexibility in any prepackaged formula.
Unsulphured Blackstrap molasses

This thick black syrup is high in B vitamins, minerals, and is a natural source of iron. It also can help keep baby from getting constipated so be careful not to give too much! Make sure you get the unsulphured variety as it is far less processed.
Once only per day ingredients:
Head Start Multi™
We are super excited about the Head Start Multivitamin Powder made by Dr. Wholeness. Years ago we set out to find the best children's multivitamin that we could that checked all the needs of our customers and mixed well in the homemade baby formula recipe, but found none that matched our needs exactly. So we worked in conjunction with a local Naturopathic doctor, Dr. Matt Angove, ND, to come up with a multivitamin that gets our stamp of approval, and that is Head Start. It is an unflavored, easy-to-mix powder that even the pickiest of eaters will find enjoyable. It does not contain any gmos or common allergens. It does contain methylated b-vitamins (B12 and folate) that was our most requested need. Remember, this one you only need to add to one bottle per day as it will contain all the vitamins/minerals needed for that day. Please don't add this to every bottle.
DHA
DHA also known as Docosahexaenoic acid is found in fish, algae and most importantly here, breast milk. It is not found in goat milk and is a required addition to the formula for its content of DHA as well as Vitamin D and Vitamin A. This is another ingredient that only needs to be added once per day based on the the weight of baby.
Colostrum is the thick yellow fluid which is produced as a precursor to mother's milk. It is found in humans, goats, and other mammals where it is produced by the mother for two days following birth. Colostrum can be described as a brilliantly designed transfer system which effectively "jump starts" a newborn's undeveloped immune system. Colostrum adds many beneficial bioactive ingredients such as lactoferrin, cytokines, growth factors, and immunoglobulins. It only needs to be added once per day. Make sure to get the powdered goat milk colostrum for easy mixing.
Probiotics are naturally present in breast milk. Flora Start Kids™ is designed to deliver live probiotic bacteria that promote healthy gut microflora, protect intestinal integrity and boost immune function. It contains three strains of Lactobacilli and three strains of Bifidobacteria, as well as Streptococcus thermophilus and Saccharomyces boulardii, an extensively researched microorganism shown to help restore microflora balance. The eight strains in Flora Start Kids have been strategically selected based on research supporting their survivability and adherence to the intestinal tract. Flora Start Kids comes in a powder form for easy administration to children. Remember, this ingredient only needs to be added once per day and should be kept in cold storage until right before you add it to the bottle.
**For the FULL PROTOCOL (including NAC) to protect from transmission from the "V" and to help those who took the "V", go here.
"Let us then approach God's throne of grace with confidence, so that we may receive mercy and find grace to help us in our time of need." ~Hebrews 4:16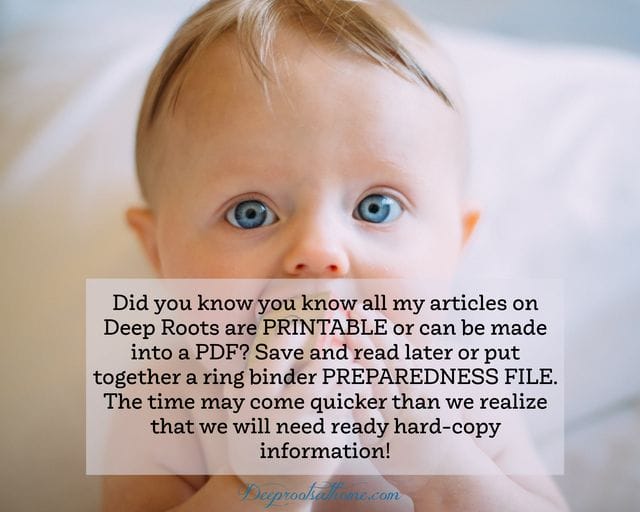 We have a HUGE, exciting announcement. Deep Roots At Home now has a PODCAST! We are doing this on a trial period to see if this interests our audience. So head over today and like, share and download the first few episodes! https://buff.ly/3KmTZZd
I am only on FB now by the grace of God… if you want to stay connected, here is one way…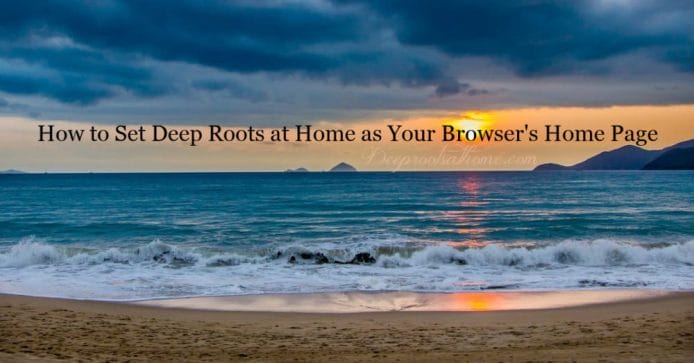 You can also find me on Instagram and Telegram.

©2023 Deep Roots at Home • All Rights Reserved