My interest in prion diseases is a personal one.
Our ND found 3 strains of abnormal prions in my husband and me during an electrodermal scan ~5 years ago. Since then, we've learned how one can halt prion growth. Below, I will explain how.
In light of our harrowing experience, it was incredibly jarring to read this study title: 'Covid-19 RNA Based Vaccines and the Risk of Prion & Neurogenerative Diseases'.
Background: "The prion is an transmissible form of the normal prion protein, which has been found in deer, elk, cows and humans, is also referred to as wasting disease or spongiform encephalopathies. The lethal, infectious form induces the normal protein to twist into a malformation, initiating a disease process that ravages the brain. Prusiner won the Nobel Prize in Physiology or Medicine in 1997 for the discovery of prions as a new biological principle of infection. A new study sheds light on a question that has puzzled scientists for a number of years: how chronic wasting disease spreads so widely through herds and species in contrast to bovine spongiform encephalopathy in cattle, in which horizontal transmission between animals is rare. First detected in a research facility in Colorado in 1967, chronic wasting disease has since been detected in fourteen states and in two Canadian provinces, predominantly in the West, both in the wild and on commercial farms." (source)
Prion protein damage causes tiny holes to form in brain tissue, making it appear sponge-like under a microscope. It is usually rapid and always fatal. (source)
**For the Full Spike Protein Protocol (including NAC) to protect from transmission from the "V" and to help those who took the "V", go here.
Now mRNA "Vaccines" Appear to be Inducing Prion Diseases, as well!
Frighteningly, the study published by the Human Microbiology Institute revealed the outer shell of the SARS-CoV-2 spike protein contains "prion-like regions" that give the virus very high adhesion to ACE2 receptors in the human body. A 10- to 20-fold higher affinity for ACE2, to be exact.
What this means in literal terms:
The mRNA vaccine works by hijacking your body's cells, causing them to churn out proteins modeled after the spike proteins in the SARS-CoV-2 coronavirus. Thus, it would cause mRNA vaccine recipients to also churn out prions in their brains.
"All 4 of the current "V"s have a spike protein that can 'punch holes' in your blood brain barrier, go in and modify the FUS gene which can cause ALS, lead to cancer, or to frontal temporal lobe degeneration."
Dr. Sherry Tenpenny explains. 3 min.
Can We Do Anything To Counteract The Prion Threat?
Yes, I believe so.
Here is our Lyme and prion story:

Because of our eventual full health rebound, almost two years ago, I decided to offer TRS through Deep Roots at Home. This was very informal at first, but because it has been so helpful for so many, I have continued to share it.
After 48 years of nursing, either practicing or consulting, I believe I know an effective tool when I see it!
German scientists appreciate its wide capabilities, as well:
5 Potential Modes of Action & the Scientific Studies:
1. When prions come into contact with a "…heavy metal (manganese, aluminum, mercury, or organophosphate pesticides) or another twisted prion (rotten apple effect), then they too twist and distort." Basically this is saying that prion proteins bond with heavy metals and then warp and start doing damage in the brain. Also, "PrPC (prion proteins) interacts with metal ions." We can infer removing the excess heavy metals will absolutely assist the body to prevent prion development and progression.
2. This study showed that "zeolite supplementation reduced oxidative damage, amyloid levels, and plaque generation in the brain of an Alzheimer's disease mouse model."
3. Nano-zeolites have been studied and shown to inhibit formation of abnormal clots. TRS (a nano-zeolite) is not a blood thinner, but if toxins (such as the spike protein) or heavy metals are an underlying cause in the formation of clots, TRS should help.
4. Zeolite clinoptilolite inhibits undesirable proteins and enhances ones we want. It "inhibits protein kinase B (c-Akt), induces expression of p21WAF1/CIP1 and p27KIP1 tumor suppressor proteins, and blocks cell growth in several cancer cell lines". (source)
5. This study states the SARS-CoV-2 spike protein is positively charged and has "an increased affinity to bind to negatively charged regions of other molecules…" It would be a fair assumption that spike proteins will be attracted and readily bond to the negatively-charged zeolites in TRS because they're oppositely charged.

About TRS, the Product:
TRS nano-zeolites are not a fad, but an effective chelator which binds toxins out of the body, preventing their interfering with the internal regulatory processes of the body.
Clinoptilolite TRS zeolites have been shown to consistently:
Bind heavy metals and ~ 80,000 toxins (all positively-charged, meaning bad for us).
TRS does not heal or cure anything, but it clears the body of toxins/metals and such so the body can heal and rebalance itself as it was designed to do.
Is

safe for newborns, infants and pregnant and nursing mothers

because

toxins are completely bound and removed.
There are only

two ingredients

in TRS

– nano-zeolites and purified water.

FDA 'GRAS' status.

TRS

is

tasteless and is sprayed directly into the mouth.

Some families see results very quickly in weeks. Some report that gains show up AFTER the 6 – 9 months mark because they need prolonged, deep detoxing.. With prions in our past we must be vigilant. We, personally, will never stop detoxing metals!
The

nano-zeolites are so tiny, the kidneys don't have to filter them; a very gentle detox.
My personal order link is https://inspiredhealthtrs.mycoseva.com/shopline_category.html
TRS* is a foundational part of our Healthcare Workers Protocol to protect against the Spike protein here.
*"This product is not intended to diagnose, treat, cure, or prevent any disease."
An interesting read: Avalyn's Story: How TRS, a Safe Heavy Metal Detox, Can Help Your Child.
"You keep him in perfect peace whose mind is stayed on you, because he trusts in you." ~Isaiah 26:3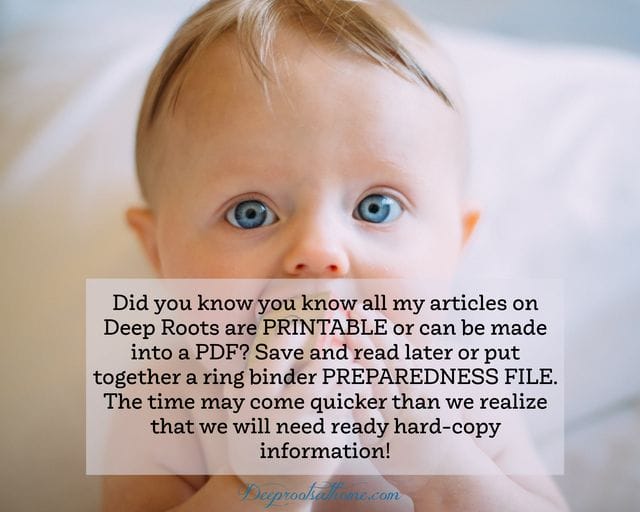 Medical Disclaimer:
I am no longer a practicing medical professional, and I am not doctor. I am a mother. I do seek scientific confirmation of the safety and effectiveness of the herbs and remedies I use. Using remedies is a personal decision. Nothing I say on this blog is intended to treat or prevent disease. Consult your own doctor.
©2023 Deep Roots at Home • All Rights Reserved