A recent study by the New England Journal of Medicine (NEJM) titled 'Preliminary Findings of mRNA Covid-19 Vaccine Safety in Pregnant Persons' published alarming data showing that a high rate of pregnant women who received the COVID-19 vaccine either during their first 20 weeks of pregnancy (or within 30 days of becoming pregnant) lost their babies soon afterwards.
Unfortunately, most readers of this report will never find these results.
The NEJM team boldly stated there were "no OBVIOUS safety signals among pregnant [women] who received Covid-19 vaccines". (It makes me wonder if they hoped it wouldn't be obvious!)
At first, one may find the conclusions of the study's data "reassuring," until we discover "Table 4" and the fine print under it.
The correct rate of spontaneous miscarriages among women vaccinated in the first 20 weeks of their pregnancy was not 12.6% but 82% because 104 of these 127 pregnancies were lost.
The study data clearly states that a "total of 700 participants (84.6) received their first eligible dose in the third trimester", and later, that a "total of 96 of 104 spontaneous abortions (92.3%) occurred before 13 weeks of gestation".
How can you have a spontaneous abortion less than 20 weeks into pregnancy if you got the "vaccine" in your third trimester?
See how the data is TWISTED from 00:30 to 3:20. Very informative and clearly explained!!
You can also watch the original 10 minute exposé by Jefferey Jaxen and Del Bigtree here. You will see Fauci LYING in House Committee testimony.
A fast-moving, well-documented video to show this is about eugenics while massively profiting from it.
8 minutes. Breastfeeding, "self-spreading" jabs. Dr. Jane Ruby.
Evidence "Vaccines" Are Self-Spreading/ Transmitting to the Rest of Us
The spike protein IS transmitted to unvaccinated persons, as well.
Page number 45 from this PDF produced by Johns Hopkins University demonstrates that 'self-spreading vaccines' are here and in use.
Self-disseminating vaccines for 'emerging infectious diseases' have existed since 2016, according to this PubMed study.
I have written on how to naturally protect yourself here (if you are not pregnant) and here (if you ARE pregnant).
**For the Full Spike Protein Protocol (including NAC) to protect from transmission from the "V" and to help those who took the "V", go here.
The Damage Done by the CDC's Recommendation for Pregnant Women to get the COVID-19 Shot
Pregnant Women Should Not Take These Shots Data Shows
"We know that the survivability rate [from COVID-19] for women of child-bearing age, as well as children, is exceedingly high at over 99.98% per the CDC even without treatment. Using simple logic for a risk assessment would make the decision to give any of the COVID experimental vaccines to a pregnant woman extraordinarily reckless." ~Dr. Simone Gold of America's Frontline Doctors
"The desire to get pregnant is overwhelming. It's not something that can be replaced by something else. It's not something you can mess around with," Gold told Michelle Malkin in an interview in February.
"The cascade of events to get pregnant and to maintain a pregnancy throughout is incredibly complicated and that's why historically scientists have always excluded pregnant women from clinical trials.
A year ago, women who were pregnant or planned on conceiving were hesitant to eat tuna because of its mercury content or to take a Tylenol. Now they are being badgered into taking experimental injections.
It's lunacy to get this experimental vaccine if you're a young female".
What if you're pregnant and got the vaccine?
Don't fear! And don't feel guilt.
That's not the point.
Trust, pray, and do all the healthy things you would do for your little one under any circumstances.
Anyone who had a negative impact for any reason was choosing the best path they knew based on the info they had at the time (and clearly we are all learning how to navigate health issues these days).
Are there Remedies?
Yes, numerous studies reveal there are!
Dandelion Tea May Block Spike Protein On Syncitin 1, Prevent Miscarriage
Common Dandelion Blocks S Protein Binding to ACE2 Receptors
3 Foods That Contain Shikimic Acid to Halt Spike Protein Transmission
**For the Full Spike Protein Protocol (including NAC) to protect from transmission from the "V" and to help those who took the "V", go here.

"So do not fear, for I am with you; do not be dismayed, for I am your God. I will strengthen you and help you; I will uphold you with my righteous right hand." ~Isaiah 41:10
I am only on FB now by the grace of God… If you want to stay connected, here is one way…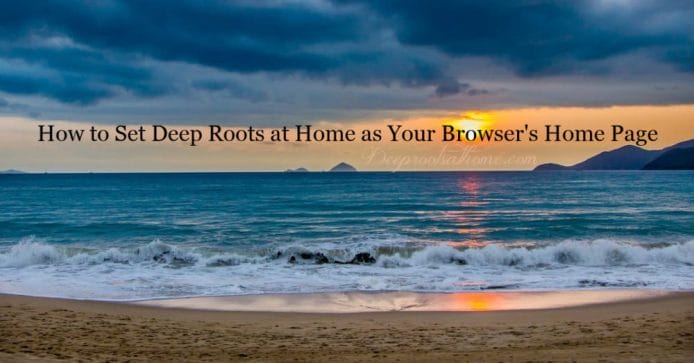 You can also find me on Instagram, Truth Social, MeWe and Telegram.
Medical Disclaimer: I am no longer a practicing medical professional, and I am not doctor. I am a mother. I do seek scientific confirmation of the safety and effectiveness of the herbs and remedies I use. Using remedies is a personal decision. Nothing I say on this blog is intended to treat or prevent disease. Consult your own doctor.

Get your free copy of the Vital Vaccine Info E-Book
©2023 Deep Roots at Home • All Rights Reserved