What is your life worth? What is your loved one's life worth? Is there a dollar value would you place on your child, your mother, father, or spouse? When the world experienced an average of nearly 15,000 COVID deaths per day, Dr. Andrew Hill decided on the price of a human life. Dr. Hill made that calculation during a conversation with Dr. Tess Lawrie, in January of 2021, during the peak of the Winter Surge.
In the following stunning zoom conversation between Dr. Tess Lawrie and Dr. Andrew Hill, then the most influential Ivermectin advocate in the world, Dr. Hill chose dollars over human lives.
It's been a year since Andrew Hill's paper taking down Ivermectin was published. It's been a year since Dr. Lawrie recorded the video call in which Andrew Hill admitted his shocking conflict of interest.
Now, a year later, Tess Lawrie, a world-class researcher and former consultant to the WHO, powerfully exposes the take down of Ivermetin:
"The story of Ivermectin has highlighted that we are at a remarkable juncture in medical history. The tools that we use to heal and our connection with our patients are being systematically undermined by relentless disinformation stemming from corporate greed. The story of Ivermectin shows that we as a public have misplaced our trust in the authorities and have underestimated the extent to which money and power corrupts." ~Dr. Tess Lawrie
Had Ivermectin been employed in 2020 when medical colleagues around the world first alerted the authorities to its efficacy, millions of lives could have been saved, and the pandemic with all its associated suffering and loss brought to a rapid and timely end."
Dr. Lawrie went on, "Since then, hundreds of millions of people have been involved in the largest medical experiment in human history. Mass vaccination is an unproven novel therapy. Hundreds of billions are being made by Big Pharma and heavily paid for by the public. With politicians and other nonmedical individuals dictating to us what we are allowed to prescribe to the ill, we as doctors, have been put in a position such that our ability to uphold the Hippocratic oath is under attack."
Ivermectin has 81 randomized controlled studies involving tens of thousands of patients showing reduced time to viral clearance, hastened recovery time, and reduced mortality. On the other hand, the vaccine lobby's choice, Remdesivir, was rejected by the WHO as a drug that failed to improve survival and actually contributed heavily to the numbers of deaths.
Note: Shockingly, Studies Show Ivermectin Is A Safe, Potent Cancer Fighter
Fauci Says It's Dangerous: "Billions of People's Lives Have Been Saved by Ivermectin!"@jimmy_dore: "It won the friggin' Nobel Prize for human medicine, and it's on the WHO list of essential medicines, but Fauci just made everybody watching that show think it was a dangerous… https://t.co/mDVqCUuqBj pic.twitter.com/DFK2lLRqxM
— The Vigilant Fox 🦊 (@VigilantFox) February 28, 2023
One thousand doses of Ivermectin can be purchased online (and without a prescription from India) for under $200. Yet, UNITAID paid $40 million to change Dr. Hill's conclusions to call for more studies [delaying Ivermectin approval], essentially condemning millions of human beings to death from COVID-19. So while 90 cents may be the price of life, it seems that twenty pieces of silver remains the price of death.
"As steel is forged in a blast furnace, the best in humanity can only arise out of its cruelest chapters. Oskar Schindler, a Nazi, gave away all his wealth to safeguard vulnerable Jewish people out of harm's way, away from the gas chambers. Oskar devoted his life at significant personal risk to saving others less fortunate; this is perhaps the fundamental principle of humanity." ~Dr. Justice R. Hope, MD
Many thanks to The Highwire and their friends at Oracle Films for helping Dr. Lawrie send her message to Dr. Andrew Hill.
"For there will be no future for the evil man; The lamp of the wicked will be put out." ~Proverbs 24: 20
**For the FULL PROTOCOL (including NAC) to protect from transmission from the "V" and to help those who took the "V", go here.
We have a HUGE, exciting announcement. Deep Roots At Home now has a PODCAST! We are doing this on a trial period to see if this interests our audience. So head over today and like, share and download the first few episodes! https://buff.ly/3KmTZZd
I am only on FB now by the grace of God… if you want to stay connected, here is one way…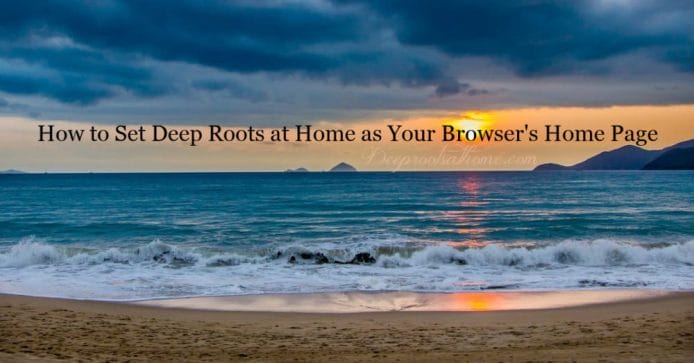 You can also find me on Instagram and Telegram.
Jacque's Update: Facebook and social media platforms are cracking down on Conservative/holistic health content. Many of you have complained that you never see our content in your news feeds on social media. There's only one way to fight back — and that's by joining my FREE newsletter. Click here.
©2023 Deep Roots at Home • All Rights Reserved