Anti-parasitic drug Fenbendazole, a remedy for parasitic worm infections in dogs, is cheap and safe, but more importantly, there is substantial documented evidence indicating its anti-cancer properties.
Fenbendazole has very few side effects and is very safe for humans to use.
It has been in use since the 1970s.
It's available over-the-counter in many countries.
It's extremely inexpensive to produce.
Due to the wildly increased incidence of cancers we are seeing now, I am sharing this guest post by Dr. William Makis. This article originally appeared on makismd.substack.com.
Dr. William Maris, a Canadian physician with expertise in Radiology, Oncology and Immunology is the author of 100+ peer-reviewed medical publications, a Governor General's Medal recipient, and is a University of Toronto Scholar.
Dr. Makis is sounding the alarm on the sudden rise in "turbo cancers", a recent term coined for the incredibly fast growing cancers found in COVID vaccinated individuals. He shares the struggles doctors are having treating these patients. You will also see cancer genomics expert Dr. Phillip Buckhaults give truly shocking testimony to the SC Senate on the DNA contamination found in mRNA leading to turbo cancers from 11:35-14:25.
34 minutes.
But thankfully, besides Ivermectin (another potent cancer-fighter), there is more hope from Fenbendazole. Now, many I know are using both Ivermectin and Fenben together.
Dr. Makis has done a thorough review on Fenbendazole that will be very helpful to many people. I sincerely hope it reaches those who may need to see it. Excerpts of Dr. Makis's article has been republished below, including the protocol options he listed.
Nine research papers reviewed by Dr. William Makis, MD, summarized for a quick scan:
2023 Jun – Movahedi et al – Repurposing anti-parasite benzimidazole drugs as selective anti-cancer chemotherapeutics
Benzimidazole drugs (including Fenbendazole) have widely been used as anti-helminth agents in both human and/or livestock since the 1960s
These drugs have rapidly become popular due to superiority in terms of efficacy, toxicity and application

Considered as

non-toxic anti-helminth agents in humans and livestock.

Acute toxicities are rarely reported for these drugs.
Neither chronic adverse effects in dogs and rats treated with very high dosages, nor irritation, carcinogenicity in treated animals have been observed
Two major mechanisms of action:
1. antimitotic activity (inhibits rapidly dividing cells (leads to cell cycle arrest)
2. disrupt cell metabolic processes by inducing oxidative stress
Result: induce apoptosis (cell death) of rapidly proliferating parasites and cancer cells
These drugs inhibit tumor proliferation and growth
Exhibit anti-metastatic effect through inhibiting cell migration and invasion
Suppress telomerase reverse transcriptase (TERT) expression, whose activation is associated with metastasis
Are potent in targeting cancer stem cells and preventing tumor recurrence.
Are found to prevent the radiation-induced transformation of cancer cells into radiation-resistant cells.
Clinical trials are ongoing for cancer therapy with benzimidazole drugs. They are also being combined with other chemotherapeutics, such as paclitaxel, trametinib, gemcitabine and methoxyestradiol, to enhance the anti-cancer treatment efficacy.
Have also sensitized tumor cells to radiation therapy
Ovarian cancer is the deadliest gynecological cancer
Fenbendazole, an anti-parasitic drug was examined due to its anti-cancer effects: ability to interfere with microtubule polymerization, block cell cycle progression, increase p53 protein stability and induce apoptosis.
Fenbendazole has low water solubility and poor bio-availability which are major obstacles to its clinical application as an anti-cancer agent, However, nanoparticles were loaded with fenbendazole to increase bio-availability.
Results: natural form of fenbendazole significantly decreased cell proliferation of both chemosensitive and chemoresistant ovarian cancer cells
But in vivo (xenograft mouse models), only the nanoparticle fenbendazole formulation showed anticancer effects.
2023 Mar – Semkova et al – Anticancer Activity of Anti-parasitic Drug Fenbendazole in
Triple-negative Breast Cancer Cells
Fenbendazole was tested on triple negative breast cancer cells, three different types including a highly metastatic type
Results: the highly metastatic breast cancer cells were more vulnerable to fenbendazole induced oxidative stress
2023 Mar – Haebeen Jung et al – Cytotoxic effects of fenbendazole on
Lymphoma EL-4 cells

and spleen cells
Purpose of this study was to investigate the cytotoxic effects of fenbendazole on normal cells of the spleen, which is a major reservoir of immune cells
Fenbendazole increased cell death of lymphoma cells but not of normal spleen cells
Fenbendazole induced reactive oxygen species in lymphoma cells but not normal spleen cells
Fenbendazole induced G2/M cell cycle arrest in lymphoma cells, not spleen cells
Conclusion: fenbendazole has anticancer effects on lymphoma cells but minimal toxicity on normal spleen cells.
2022 Sep – Deokbae Park et al – Anti-cancer effects of fenbendazole on 5-fluorouracil-resistant
Colorectal Cancer Cells
Benzimidazole anthelmintic agents have been recently repurposed to overcome cancers resistant to conventional therapies.
Fenbendazole was tested on chemo resistant colorectal cancer cells
Results: fenbendazole significantly induces apoptosis as well as cell cycle arrest at G2/M phase on both colorectal cells and chemo resistant colorectal cancer cells.
Known to bind beta-tubulin, disrupt microtubules, and arrest cell division
Known to activate p53 and p21 but decrease mutant p53 expression
In colorectal cancer cells: fenbendazole is presumed to activate p53-mediated apoptosis by increasing p53 expression(!), and partly necrosis, autophagy and ferroptosis
In chemo-resistant colorectal cancer cells: fenbendazole triggers apoptosis without affecting p53 expression, apoptosis was partly induced by Beclin-1, and further augmented by ferroptosis
6 mechanisms of action: (cell cycle arrest G2/M, activate p53-mediated apoptosis, autophagy, necroptosis, ferroptosis, Beclin-1 mediated apoptosis).
2022 Jan – Li-wen Ren et al – Benzimidazoles induce apoptosis of Human Glioblastoma Cells (GBM) via arresting cell cycle
Fenbendazole dose-dependently suppressed cancer DNA synthesis
Fenbendazole inhibited cell migration and invasion of GBM cells
Fenbendazole also dose-dependently induced the GBM cell cycle arrest at the G2/M phase via the P53/P21/cyclin B1 pathway.
Fenbendazole triggered pyroptosis of GBM cells (pyroptosis is a form of programmed cell death) through the NF-κB/NLRP3/GSDMD pathway
Fenbendazole induced mitochondria-dependent apoptosis of GBM cells
Fenbendazole inhibited tumor growth of glioblastoma in vivo in a dose dependent manner
Conclusion: "Taken together, our results demonstrated that benzimidazoles a promising candidates for the treatment of GBM."
2020 Aug – Deok-Soo Son et al – The Antitumor Potentials of Benzimidazole Anthelmintics as Repurposing Drugs
Benzimidazole anthelmintics (like fenben- and mebendazole) have broad-spectrum action to remove parasites both in human and veterinary medicine

Due to their low cost and high efficacy, benzimidazole anthelmintics have been used throughout the world since their introduction in the 1960s

Benzimidazole anthelmintics are well-tolerated without severe side effects, and their decades of use provide a basis for safety in humans.

Benzimidazole anthelmintics selectively bind to β-tubulin of parasitic worms, causing their immobilization and death
Besides being antiparasitic, benzimidazole anthelmintics are known to exert anticancer activities summarized as:

disrupts microtubule polymerization
inhibits cancer cell viability
inhibits cancer cell migration and invasion
induces apoptosis and autophagy
increased cell cycle (G2/M) arrest
induces differentiation and senescence
inhibits angiogenesis
reduces colony formation and inhibits stem-ness in cancer cells
inhibits drug resistance and sensitize cells to conventional chemo
blocks glucose transport and impairs glucose utilization
2020 Jun – Yong Han et al – Involvement of reactive oxygen species in the anti-cancer activity of fenbendazole for Leukemia
In this study, we investigated whether Fenbendazole has anti-cancer activity in HL-60 cells, a human leukemia cell line
Fenbendazole significantly decreased the metabolic activity of leukemia cells
Fenbendazole decreased the mitochondrial membrane potential of leukemia cells in a concentration-dependent manner
Fenbendazole increased apoptosis and necrosis of leukemia cells
Conclusion: fenbendazole exerts anti-cancer activity against leukemia cells, in part, via ROS production (reactive oxygen species)
2018 Aug – Dogra et al – Fenbendazole acts as a moderate microtubule destabilizing agent and causes cancer cell death by modulating multiple cellular pathways
Fenbendazole is known to have a high safety margin and most species tolerate it very well
Fenbendazole targets microtubules in human Non-Small Cell Lung Cancer cells
Fenbendazole treatment results in early G2/M block accompanied by cell death
Tumour cell lines with wild-type p53 show enhanced sensitivity to Fenbendazole induced apoptosis
Inhibition of glucose uptake by Fenbendazole sensitizes cancer cells to undergo apoptosis
Fenbendazole effectively inhibits colony formation of human Non-Small Cell Lung Cancer cells in culture
In Vivo: Fenbendazole suppresses tumor growth
Fenbendazole possesses a unique ability to induce p53 to a considerably high level (!)
Conclusion: Altogether, our findings show microtubule disruption, p53 stabilization and interference with glucose metabolism as collective underlying mechanisms of Fenbendazole induced preferential elimination of cancer cells both in vitro and in vivo.
Fenbendazole shows in vitro and/or in vivo activity against these cancers:
breast cancer (including triple negative breast cancer – which is seen in COVID-19 mRNA Vaccinated individuals with Turbo Cancer)
lymphomas (these are the most common COVID-19 mRNA Vaccine Turbo Cancers and there is more evidence for Fenbendazole with Lymphomas than with Ivermectin)
leukemias (most aggressive COVID-19 mRNA Vaccine Turbo Cancers)
glioblastomas and gliomas (extremely aggressive COVID-19 mRNA Vaccine Turbo Cancers)
lung cancer (NSCLC) (strong signal for COVID-19 mRNA Vaccine Turbo Cancers)
hepatocellular carcinoma (signal for COVID-19 mRNA Vaccine Turbo Cancers)
rhabdomyosarcomas (possible signal for COVID-19 mRNA Vaccine Turbo Cancers, sarcomas in general are on the rise)
ovarian cancers
urothelial cancers
Bottom Line
Ivermectin is FDA approved. Fenbendazole is not approved for human use by the FDA. It is available as a veterinary medication.
Mebendazole (Vermox) is FDA approved for human use, but it's significantly more expensive.
Why is Fenbendazole so popular? The Story of Joe Tippens and his terminal Stage 4 Small Cell Lung Cancer:
3 minutes.
Joe Tippens Cancer Protocol (see the original protocol here).
4 Fenbendazole Protocol Options & Product Source

Dr. Tom Rogers, MD (Performance Medicine, Knoxville, TN) Suggests Several Protocols utilizing Fenbendazole:
ACTIVE CANCER TREATMENT – For active cancer, take one capsule of Fenbendazole (444 mg) daily. Some people recommend you take one day off a week. Note: I think I would just take Sundays off. Again, you're not supposed to develop a tolerance to this, but taking a little break is probably a good idea. To improve the protocol , take CBD oil (25mg) 1-2 drops every night before sleep. To strengthen the protocol take Curcumin (600mg) twice a day with food. To support the liver, take Milk Thistle (250mg) twice a day with food. Note: Fenbendazole should be taken with or after a fatty meal to improve absorption.
COMPLEMENTARY CANCER TREATMENT – Take one capsule of Fenbendazole (222mg) every day, once a day after a fatty meal; Curcumin (600mg) one capsule, two times a day after breakfast and lunch; CBD oil (25mg) 1-2 drops under the tongue every day before sleep.
CANCER RELAPSE PREVENTION – Taking Fenbendazole for active cancer and cancer relapse prevention, take one capsule (222 mg) three times a week, once a day after a fatty meal.In addition, take Curcumin (600mg) one capsule/two times a day after breakfast and lunch, Milk Thistle, and CBD Oil (25mg) 1-2 drops under the tongue everyday before going to sleep. Note: Have your doctor follow and check liver and kidney function tests. It's easy, cheap, and you can get this at any doctor's office.
CANCER PREVENTION (prophylactic) – Those that have had genetic tests and know they're really prone to getting cancer can take Fenbendazole prophylactically. Take one capsule (222 mg) 3 times a week, once a day after a fatty meal. Then no Fenbendazole for four days. Repeat for 10 weeks and then take 10 weeks off; Curcumin (600 mg) one capsule two times a day after breakfast and lunch; CBD oil (25mg) 1-2 drops under the tongue every day before sleep. Continue that regimen indefinitely.
SOURCE: Fenben Lab is a good source. (I am not an affiliate).
ANOTHER SOURCE: the Heal Navigator Fenbendazole Protocol Step-by-Step Guide.
Fenbendazole.org is a very helpful site for more information.
Fenbendazole is not that controversial when you consider the scientific evidence objectively. Fenbendazole has at least 12 proven anti-cancer mechanisms in vitro and in vivo:
disrupts microtubule polymerization (major mechanism)
induces cell cycle (G2/M) arrest
blocks glucose transport and impairs glucose utilization by cancer cells (major)
increases p53 tumor suppressor levels (major)
inhibits cancer cell viability (mTOR)
inhibits cancer cell migration and invasion (EMT pathway)
induces apoptosis
induces autophagy
induces differentiation and senescence
inhibits tumor angiogenesis
reduces colony formation and inhibits stem-ness in cancer cells
inhibits drug resistance and sensitizes cells to conventional chemo as well as radiation therapy
So why are there no Fenbendazole Clinical Trials for Cancer?
The answer seems rather obvious: it's very cheap, it's safe and it seems to be very effective. Fenbendazole is not going to make anyone rich, and in cancer treatments, that is a non-starter.
Dr. Makis has also covered high dose Melatonin for the treatment of very aggressive COVID-19 mRNA Vaccine Turbo Cancers, as these patients are NOT being given any options by their Oncologists —and Turbo Cancers are RESISTANT to conventional chemo and radiation.
**This article is for informational purposes only, and as always, you should consult your physician before starting any new medications or treatment plans. These statements have not been evaluated by the FDA. These products are not intended to diagnose, treat, cure, or prevent any diseases.
Source – Dr. William Makis MD
"My flesh and my heart may fail, but God is the strength of my heart and my portion forever." ~Psalm 73:26
"The name of the LORD is a strong tower; The righteous run to it and are safe." ~Proverbs 18:10

***For the Full Spike Protein Protocol (including NAC) to protect from transmission from the "V" and to help those who took the "V", go here.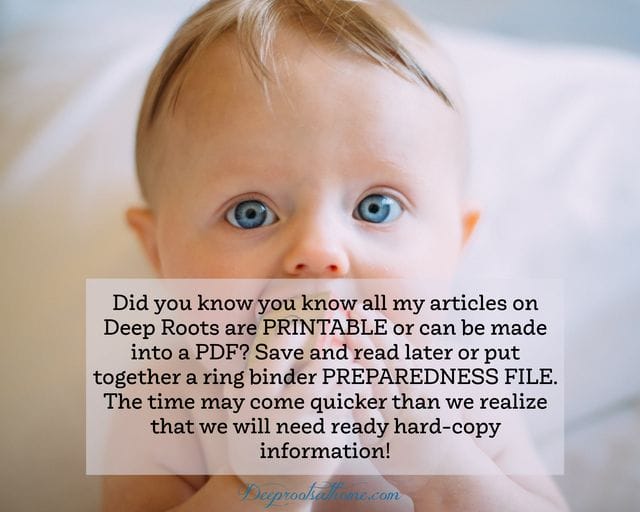 ©2023 Deep Roots at Home • All Rights Reserved