Are you aware of melatonin? Due to the wildly increased incidence of 'turbo cancers' we are seeing now, I am sharing excerpts from a post by Dr. William Makis. This article originally appeared on makismd.substack.com.
First, here's Dr. Makis's summary of why you need to know about melatonin, and then we'll get to the meat.
Melatonin's Numerous Effects on Cancer Cells
Melatonin (Mel) preserves genomic stability – scavenges free radicals, inhibits metal-induced DNA damage, stimulates antioxidant enzymes, enhances DNA repair, inhibits pro-oxidative enzymes
Mel inhibits cancer cell proliferation
Mel promotes apoptosis of cancer cells
Mel inhibits angiogenesis
Mel counteracts cancer cell immune evasion – by increasing production of T-cells and NK cells, modulate the immune system
Mel decreases pro-tumor inflammation
Mel inhibits glucose metabolism of cancer cells
Mel inhibits cancer cell metastasis by several mechanisms
Melatonin can treat these Cancers:
gastric cancer – numerous pathways
glioblastoma – Melatonin showed an anticancer effect against glioblastoma, and it was also reported to overcome the multi-drug resistance in glioblastoma
prostate cancer – melatonin suppressed growth and metastasis

lung cancer (small cell)

– Melatonin administration remarkably enhanced apoptosis, in addition to inhibition of proliferation, invasion, and metastasis
ovarian cancer (TLR-4 signaling pathway involved)
colorectal cancer – inhibited proliferation and promoted apoptosis
liver cancer – melatonin promoted autophagy and apoptosis
renal cell (kidney) cancer – melatonin promoted apoptosis and inhibited metastasis
oral cancer
Dr. Makis discusses WHY very young people (including teachers) and getting 'turbo cancers' and how doctors are unprepared for the speed of the progression. He also covers some strategies to break down spike proteins from 53:00 on.

Please turn down the sound, just in case. 64 minutes. (Refresh this article if the video is slow to appear).
This Very Important Video Will Answer Most of Your Melatonin Questions
In a medical symposium, Dr. Frank Schallenberger discusses how much melatonin he uses with his cancer patients —from those already taking conventional chemotherapy (at 18:00), as well as, those with diabetes and how to use it with insulin (at 22:10). He also recommends melatonin for cancer prevention. Find out why melatonin researchers take high doses themselves, and why NOT to take the tablet form. Very enlightening.
Listen to the end. (Refresh this article if the video is slow to appear).
At 8:00, Schallenberger discusses how melatonin effectively stops cancers from growing and that melatonin DOES NOT alter the level of any other hormones!
PureBulk is the melatonin supplement he mentions. Melatonin Max is another one many are using.
"I have used 60 mg every evening for a year plus switched to only using red lights after sundown. Have had no ill effects and sleep better than ever. Has helped my chronic fatigue syndrome. I started this based on info from the melatonin studies and use by Frank Shallenberger, MD and Russell Reiter. Cancer is the leading cause of death in both sides of my family. I buy Melatonin Max based off his recommendation." ~Reader A.F.
All Melatonin (abbreviated Mel) Papers Dr. Makis reviewed are from Apr 2021-Sept 2023:
(I've summarized Dr. Makis's summaries even further for the lay reader. I only share 6 papers here. For more depth, please go to makismd.substack.com.
2023 Sep – Putta et al – Melatonin: Avenues in cancer therapy and its nanotech advancements
"According to clinical investigations, melatonin has the potential to prevent and cure cancer"
Melatonin is crucial for tumor development. Too low levels of Melatonin allow for accelerated tumor development
At normal dose levels ranging from 10 to 50 mg/day, it can treat a variety of cancers in vivo (breast, lung, colon, liver, gastric, glioblastoma, ovarian, cervical, prostate, skin)
There is strong proof that it reduces adverse effects while improving the therapeutic benefits of chemotherapy and radiation
2023 Jun – Megerian et al – Melatonin and
Prostate Cancer

: Anti-tumor Roles and Therapeutic Application
Prostate cancer risk has been associated with factors that interfere with normal pineal gland activity, including aging, poor sleep, and artificial light at night.
Melatonin (Mel) secretion becomes circadian between the age of one to three years and gradually diminishes by 10-15% per decade
Diminished lifetime secretion of melatonin has been suggested to be a catalyst for not only aging, but also age-related conditions like cancer (dubbed "Age Clock")

Disruption of the circadian rhythm can increase the risk of cancer
Relationship between light exposure at night and the risk of prostate cancer
Significant increase in the risk of prostate cancer in rotating shift workers who alternate work hours

Mel action on prostate cancer cells:
Mel inhibits glucose metabolism of cancer cells
Mel inhibits DNA replication in cancer cells and cell proliferation
Mel promotes apoptosis and inhibit cell proliferation.
Mel inhibits angiogenic processes
Mel inhibits enzymes that help cancer cells metastasize
Mel has anti-cancer effects by resynchronizing the circadian rhythm
"Considering that there were no major side effects related to melatonin except for minor problems (Foley et al), we recommend a higher dosage for a definite anti-tumor activity."
2022 Sep – Davoodvandi et al – Melatonin and cancer suppression: insights into its effects on DNA methylation
Melatonin (Mel) was discovered in bovine pineal tissue of bovine by Lerner and colleagues in 1958
There is a substantial association between aberrant methylation of DNA and cancer incidence
Conclusion: melatonin significantly modified the status of DNA methylation, especially in

breast cancer

tissue.
Consequently, the changes in DNA methylation led to an inhibition of cancer cell proliferation, progression and metastasis
Mel reversed chemo-resistance to current drug regimens
2022 Aug – Florido et al – Understanding the Mechanism of Action of Melatonin, Which Induces ROS Production in Cancer Cells
Mel is synthesized by the pineal gland and several tissues (ex. skin).
Mel is involved in multiple cellular processes, is a potent free radical scavenger and broad-spectrum antioxidant
"Melatonin is of particular importance in the development of innovative cancer treatments due to its Anti-Cancer effects:
Mel leads to apoptosis of cancer cells.
Mel stimulates antioxidant enzyme activity by regulating gene expression
Mel works against tumors in the 3 different stages of tumorigenesis: cancer initiation, progression and metastasis:
cancer initiation – Melatonin prevents DNA mutations (by free radical scavenging, inhibiting metal-induced DNA damage, stimulating antioxidant enzymes, and enhancing DNA repair.
cancer progression – Melatonin impairs proliferation, impairs angiogenesis
metastases – Melatonin impairs hypoxia-induced cancer cell migration
2022 May – Monayo et al – The Prospective Application of Melatonin in Treating Epigenetic Dysfunctional Diseases
Changing behaviors and environment that affect the way your genes work has been one of the main tools used to unravel the possible mechanisms of melatonin use in numerous cancer types:
Artificial Light:
Modern artificial lights especially those with blue light emissions have been reported to cause a litany of health problems including cancer
Artificial light can cause circadian disruptions by causing desynchronization of the circadian pacemaker, resulting in decreased levels of melatonin secretions from the pineal gland
Artificial light at night is associated with hormonal imbalances (decreased melatonin) and impaired circadian rhythms can cause cancer
Melatonin alters the effects of

breast, prostate, liver, and skin cancers

associated with ill-timed light exposures (early morning, late evening, night)
Melatonin resynchronizes dysregulated circadian rhythm
***Non-coding RNA (microRNAs):
Melatonin elevates levels of certain tumor suppressing microRNAs
Mel increased levels of miR-152-3p which causes decline in cell proliferation, angiogenesis and inhibit cancer cell invasion in glioblastoma cells and

breast cancer cells

Mel also increased levels of miR-16-5p which

suppresses

gastric cancer & breast, ovarian, cervical, hepatic, prostate, bone, lymphatic.
Mel inhibits oncogenic microRNA miR-483 which is implicated in

thyroid cancer, breast cancer, ovarian, colorectal, hepatocellular and pancreatic

Mel inhibits oncogenic microRNA miR-155 and inhibits glioblastoma cells
Mel exerts effects on tumor initiation, promotion, and progression by acting on many signaling pathways
Mel inhibits oncogenic miRNAs and enhances tumor suppressor miRNAs
Mel can

suppress cancer stem cells that can cause relapse and metastasis

Mel affects the tumor microenvironment – and shifts immune system response towards the cytotoxic side by stimulating production of cytotoxic T-cells like CD8 cells or NK cells, and inhibiting T regulatory cells (Tregs) and cancer-associated fibroblasts (CAFs) that facilitate immune escape of cancer cells.
Mel enhances effects of chemotherapy and radiation and reduces chemo and radiation side-effects
Mel sensitizes cancer cells to chemo by promoting cell death (apoptosis)
Melatonin as Adjuvant Treatment to Chemo and Radiation
Melatonin used alongside radiotherapy is able to augment the impact of ionizing radiation on tumors and can also prevent radiation's toxic effects on normal cells
Efficiency of chemotherapy can be enhanced by the concomitant prescription of melatonin; side effects of the former are also ameliorated.
Data also indicate that melatonin increases survival and improves quality of life
It is thought that the capacity of melatonin to scavenge free radicals together with its antioxidant characteristics, are responsible for the improved outcomes
Melatonin Safety Profile and Dosing

Based on human trials and reported use, melatonin seems to have a high safety profile especially when used in appropriate doses and short term.
Although the doses used in the published studies are 10–50 mg/day higher than those used for other indications (0.5–5.0 mg/d), none of the studies found any severe adverse effects linked to melatonin;
The most common side effects are excess sedation and somnolence.
half-life time of oral melatonin was approximately 45 min (28–126 min)
Melatonin appears safe, since no side-effects have been reported, even with doses up to 100 mg/kg administered in 72 h (Gitto et al), or when a dose of 10 mg/kg was administered once daily for 5 days (Aly et al)
Melatonin has short plasma half-life, variable oral absorption, and low bioavailability in addition to its poor solubility and stability.
Therefore, (immediate release) dosage forms are unsuitable candidates for melatonin delivery.
To overcome these limitations, many pharmaceutical formulations have been developed using different approaches
Melatonin is widely used clinically for the short-term management of sleep disorders, such as insomnia due to jet lag or shift work and typically taken orally at a dose ranging from 3 mg to 10 mg daily
For cancer treatment, the dosage of melatonin would be much higher (see more on dosing below)

In order to use melatonin for cancer treatment, the drug form has to be stable with a reasonable length of shelf life so as to ensure reliable drug delivery.
Nanosized carriers have aroused great interest for their unique properties including increased therapeutic efficacy, reduced side effects, and improved life quality of patients.
Makis's Ending Thoughts…
"I recently covered high dose Fenbendazole for the possible treatment of very aggressive COVID-19 mRNA Vaccine Turbo Cancers, as these patients are NOT being given any options by their Oncologists —and Turbo Cancers are RESISTANT to conventional chemo and radiation.
Melatonin has extensive anti-cancer properties.
***Where I find Melatonin particularly incredible, is its ability to regulate numerous cancer related microRNAs (mentioned above), specifically by enhancing tumor suppressor miRNAs and inhibiting oncogenic miRNAs.
COVID-19 mRNA "vaccines" may be generating oncogenic miRNA

s

that are causing Turbo Cancers (!)
After all, it's in the name of Pfizer's COVID-19 mRNA Vaccine:
It's posts like this that keep me up at night:
At least these are more fun:
Oncogenic miRNAs or ONCOMIRS are overexpressed in a variety of cancer types and act through a variety of downstream targets. Multiple oncomirs are consistently overexpressed in a variety of cancer types such as miR-21, miR-31, miR-135, miR-155, and miR-17-92 family of oncomirs.
These act in a variety of manners to downregulate tumor suppressor pathways, upregulate oncogenic pathways, and even alter epigenetic machinery.
In other words: THEY PROMOTE CANCER.
What does that have to do with Melatonin?

So Melatonin has been proven to regulate oncogenic miRNAs in a number of cancers, but can it regulate Pfizer's or Co-miRNA-ty's oncogenic miRNAs?
MAYBE. No one has asked. Well, I'm asking but I don't know the answer.
Melatonin has been shown to treat breast, colon, lung, hepato-biliary, ovarian and prostate cancers – which just happen to also be the same cancers that show up after Pfizer or Moderna COVID-19 mRNA Vaccination but in Stage-4 Turbo Variety!
For Cancer treatment the dosing starts at a minimum of 20mg / day but all the studies admit that the dose must be much higher. But how high?
Some people are taking 60mg to 720mg per day, presumably safely:
Melatonin can improve the immune system, it can prevent cancer and it can treat cancer. Perhaps it can treat mRNA Vaccine Turbo Cancer also.
But what are the optimal doses for each of these indications?
I honestly don't know. Dosing should be discussed with your functional doctor or other care provider.
Subscribe to Dr. Makis' Substack
3 Verses To Overcome Fear In These Days
Instead of fearing what I now clearly see happening in the world with my own eyes, I'm holding tightly to God's Word, and I encourage you to as well:
"Be strong and courageous. Do not fear or be in dread of them, for it is the Lord your God who goes with you. He will not leave you or forsake you." ~Deuteronomy. 31:6
"So do not fear, for I am with you; do not be dismayed, for I am your God. I will strengthen you and help you; I will uphold you with my righteous right hand." ~Isaiah 41:10
"For God hath not given us the spirit of fear; but of power, and of love, and of a sound mind." ~2 Timothy 1:7
I also have been thinking on Scriptures about the Future of Those Who Oppose God vs. Those That Trust God.
***For the Full Spike Protein Protocol (including NAC) to protect from transmission from the "V" and to help those who took the "V", go here.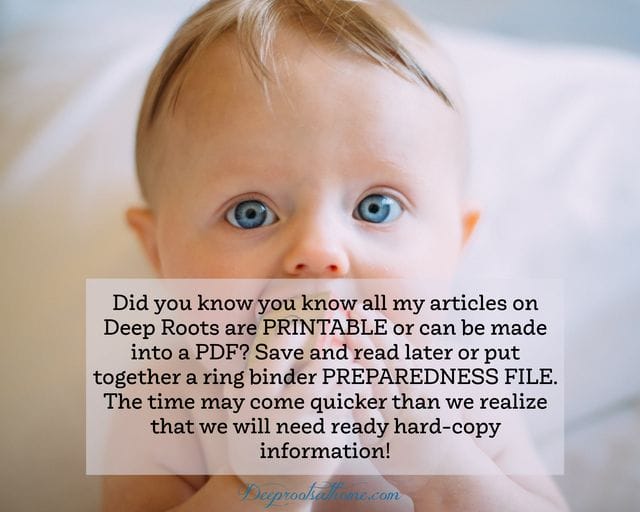 ©2023 Deep Roots at Home • All Rights Reserved