We've all enjoyed the taste of Nutella before, but I must confess I've never purchased a jar because of the 200 calories, 21 grams of sugar, and 11 grams of fat in just two level tablespoons.
My daughter has been wanting to make her own healthier version of Nutella for some time, so I said I'd spring for the hazelnuts if she'd make some tweaks to the recipe! Fair enough.
First, The Spin
You'd think that the official website would give the full listing of Nutella ingredients, as well as the nutrition figures, in exactly the same way most other food manufacturers do these days.
Not so Nutella. Here's all they tell you about what's in their iconic product:
"Nutella contains hazelnuts, cocoa powder, skim milk powder, vegetable oil, sugar, soy lecithin and vanillin."
Yes, these are the ingredients in Nutella but not in their correct order.  Nutella would like you to believe that their product is composed mainly of hazelnuts and cocoa (two healthy-sounding ingredients). So they re-arrange the true order to make a better impression. And leave out the percentage and the correct additive names.
The true list of Nutella ingredients
I actually had to purchase a jar of the stuff to find out the truth about the Nutella ingredients. Once you're looking at the back of the label, you quickly see – when forced by food law – what the product really is made from:
Sugar, vegetable oil, hazelnuts (13%), cocoa powder (7.4%), non-fat milk solids, emulsifier (soy lecithin), flavoring (vanillin).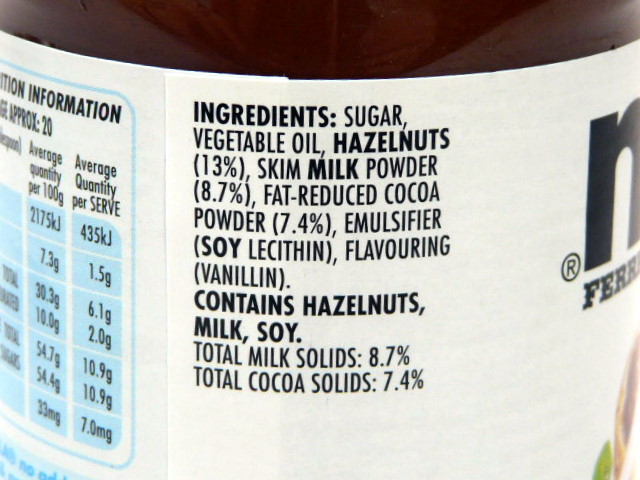 The list of ingredients is very revealing. On the label, by law, it MUST show them in descending order by weight from the largest down to the smallest.
Sugar is the first listed and thus the main ingredient by weight of all the Nutella ingredients. In fact, Nutella is 55 per cent sugar! How addicting is that?!
Why Is Our Version 'Guilt-Free'?
This version is much lower in sugar grams and not processed sugar (wayyy less than half) using only real maple syrup
It is vegan, GMO-free, corn-free, dairy-free, gluten-free
I haven't had it tested, but it probably has half the calories
It compares to the rich taste of the famous Nutella you find at the grocery
What makes this so amazing in our opinion is the Madagascar vanilla bean extract and touch of coconut oil
Our Version, Nutella Recipe
Ingredients (makes one jar):
2 cups raw hazelnuts
1/2 cup maple syrup
3 TBSP raw cacao powder, slightly rounded
1/2 cup warm water
1 and 1/2 tsp. vanilla extract (my vanilla extract recipe)
3/4 tsp. sea salt (Himalayan pink salt gives the highest flavor in this recipe)
3 TBSP virgin coconut oil (melted) for extra smoothness, plus it keeps longer due to the antimicrobial nature of unrefined coconut oil
Note: I read other recipe's comments and saw complaints of not lasting after 3 days, so I decided to use coconut oil, vodka-based vanilla extract, and sea salt. We did not find this to be a problem at all. But just to be on the safe side, refrigerate and plan to consume what you make within 7 days or freeze.
Simple Directions:
Roast hazelnuts for 10-14 minutes in pre-heated 375 F oven. Take less than a minute to rub them together by hand or in a paper towel to get most of the skins off. Don't worry about leaving a few skins.
Once cool, place the hazelnuts in a food processor and blend for 8-10 minutes until they totally break down.
Next, add the maple syrup, cacao and all the rest of the ingredients except the water.
Blend again before gradually pouring in the water – it's important that everything is properly mixed before you add the water though, since you may not need it all.
Soon you reach your desired consistency and can easily spread this amazing mass of delectable goodness!
Warning: We tripled the recipe, which definitely was a mistake. We made it in separate batches the next time and achieved a creamier, more spreadable consistency. It's certainly gentler on your nerves and equipment!
Since we made a triple amount, we had a tantalizing, tasty treasure trove to tuck away for one of those times when you just want a nutritious treat as a pick-me-up with no fuss or you want to impress a guest!
Btw, our Nutella freezes well, but make sure you leave 1 and 1/2″ of head space for expansion.
We think it actually gets even better, if that could be so, with age as the ingredients blend. It is marvelously satisfying on the tongue and in the tummy.
Toppings
Of course, straight off the spoon and a nutrient dense, filling snack!
And what about on apple wedges or fresh strawberries? So many ways one can use this healthier version of Nutella: to top pancakes? cake and cupcakes? to swirl warm Nutella into vanilla ice cream?
What are your ideas?
Pin It! Pin it!
If you are encouraged or informed by something you have read here at Deep Roots, please consider liking my page on Facebook or subscribe via Feedburner. Thank you so much!
Thanks for reading!