Dr. A. Fauci (via a U.S. government purchase) just bought 119 Million dollars worth of monkeypox vaccines back when there was just 1 case in the whole country and 20 cases in Europe as of 5/20! They were purchased from Bavarian Nordic, and the stocks have surged with buy in by people who knew beforehand.
As of July 29, San Francisco has 281 cases, out of about 800 in California, according to the San Francisco Department of Public Health.
Meanwhile, New York State Health Commissioner Dr. Mary Bassett Thursday declared monkeypox an "imminent threat." New York has recorded at least 1,341 cases, according to state health department numbers.
"Monkeypox is Fauci's new gold mine. Just one week before the first outbreak of Monkeypox in Massachusetts, Dr. Fauci had the vaccine purchased to use. Fauci knows that COVID wasn't enough to terrify the American people for long…"
This video exposes Fauci's new vaccine, the fear attack, and how they will be mRNA based and to use the materials in there to control (at 3:30).
(Please excuse that Fauci is called a "pig" – even though we may feel that way, we must control our anger no matter what).
The first 6 minutes only.
Dr. Peter McCullough helps us gain context and connect dots in 7 minutes. (1:53:00 through 2:00:00).
*For the FULL PROTOCOL (including NAC) to protect from transmission from the "V" and to help those who took the "V", go here.
A New "Epidemic" Is Underway
A short excerpt from ragnar_forseti's newletter (where you can verify these facts):
"There are 4 pandemic tabletop exercises that have taken place over the last twenty years, the most famous one being Event 201.
We now have another one, and you can clearly see it for yourself.
It is important to go down the rabbit hole to see how the dots are connected. The report was a partnership between The Nuclear Threat Initiative (NTI) and the Munich Security Conference. The Munich Security Conference has received funding of $1.2 mil from The Bill & Melinda Gates Foundation. (source)
The Nuclear Threat Initiative (NTI) has also received $3.5 mil from The Bill & Melinda Gates Foundation in the name of Vaccine Development. (source)
Now that we've established who is funding these reports let's have a closer look at the 2021 report itself which predicted the Monkeypox outbreak (and yes the exact date is predicted in the document on pg. 10 below).
On Page 6 of the report:
"The exercise scenario portrayed a deadly, global pandemic involving an unusual strain of monkeypox virus that emerged in the fictional nation of Brinia and spread globally over 18 months. Ultimately, the exercise scenario revealed that the initial outbreak was caused by a terrorist attack using a pathogen engineered in a laboratory with inadequate biosafety and biosecurity provisions and weak oversight. By the end of the exercise, the fictional pandemic resulted in more than three billion cases and 270 million fatalities worldwide"
What is especially interesting about these recommendations is the role the UN, WHO and Banks will have to play (all are mentioned in the report). This seems like a direct nod to the WHO Pandemic treaty which is being discussed at the World Health Assembly May 22-28.
Isn't it interesting as well that the World Economic Forum 2022 meeting is also taking place from May 22-26.
Most fascinating of all though was the predicted date from the document of the MonkeyPox outbreak (Page 10). Funny how unerringly accurate they are with their predictions. Just a coincidence of course.
As was evident in Covid yet again they speak of flattening the curve, using mask mandates and ceasing mass gatherings as well as health screening measures for travel (vaccine passports). Page 17. (Remember, masks for adults or children don't work and only weaken our immune system).
If anybody thinks these pandemic tabletop exercises are a coincidence they need their head examined.
This is far from over."
Monkeypox is No Where Near As Harmful As Smallpox
Dr. Robert Malone's newsletter today stated (in summary): "The monkeypox virus, which originates in various regions of Africa, is related to Smallpox (Variola), which are both members of the genus Orthopoxvirus. However, it is important to understand that Variola is the species of virus which is responsible for the worst human disease caused by the Orthopox viruses. Just because Monkeypox is related to Smallpox, this does not in any way mean that monkeypox represents a similar public health threat. Anyone who implies otherwise is basically engaged in or otherwise supporting weaponized public health-related propaganda. In other words, spreading public health fear porn.
"Monkeypox was first identified in 1958 in colonies of monkeys, and the first human case of the virus was identified in 1970 in the Democratic Republic of the Congo. Most likely this was just the first case identified, as people living in Africa have been in contact with monkeys and the other Monkeypox animal hosts for millennia. The "West African" monkeypox clade (clade = variant) circulating outside of Africa at this time causes a milder disease compared to the closely related virus found found in other regions of Africa (Congo clade).
"The symptoms of monkeypox are somewhat similar to, but much milder than smallpox disease. The general clinical presentation of the disease caused by the West African monkey pox clade virus involves Influenza-like symptoms — fever, body aches, chills — together with swollen lymph nodes. A rash on the palm of the hand is often observed. In the latter stage of the disease, which may last for up to a month, may involve small lesions which develop a crust, and which can result in a small depigmented scar. There is no evidence of asymptomatic transmission. In other words, current medical knowledge indicates that it is only spread by person to person contact between an uninfected individual and someone who already has symptoms of the disease. Essentially, all of the current cases in the west which we are seeing in the news are among men who have sex with men, and are due to close physical contact. Chicken pox, which is highly transmissible, is not part of the genus Orthopoxvirus, despite that name "pox." Just because Monkeypox is a "pox" virus in the genus Orthopoxvirus, does not mean it is particularly deadly.
"Current data indicate that Monkeypox is not very infectious in humans – it has a low Ro (perhaps below 1), which is the term used to describe how efficiency an infectious disease can spread from human to human. Again, this is super good news. An Ro of <1 generally means that (even in the absence of social distancing), for every person already infected, on average less than one other person will become infected. In comparison, the Omicron variants of SARS-CoV-2 have an Ro in the range of 7 to 10. A virus with an Ro of 7-10 essentially cannot be contained and will rapidly spread throughout the world, as we have seen with the Omicron variants. Since this [Monkeypox] transmission appears to be from very close contact, this means that it can be easily contained without resorting to a general population vaccination campaign. Using a vaccine to help containment is generally unnecessary, and may even be counterproductive – keeping in mind that no drug or vaccine is perfectly safe."
12 Natural Remedies to Prevent and Treat Smallpox and Monkeypox
Monkeypox and Smallpox are in the same family of viruses.
Prevention and treatment would essentially be the same.
This post contains the 12 natural remedies and herbs you need to know:
*For the FULL PROTOCOL (including NAC) to protect from transmission from the "V" and to help those who took the "V", go here.
Baby formula help for families in trouble: Formula Shortage & 2 Nutritious Homemade Baby Formula Recipes and Highly-Digestible Homemade Mt. Capra Goat Milk Baby Formula
"Rest in God alone, my soul, for my hope comes from Him. He alone is my rock and my salvation, my stronghold; I will not be shaken." ~Psalm 62: 5-6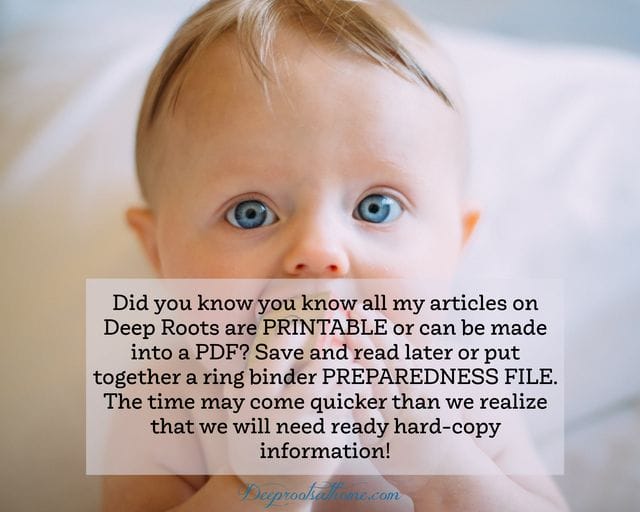 Deep Roots At Home now has a PODCAST! We are covering everything from vaccines, parenting topics, alternative medicine, and my testimony of past abortion. We are doing this on a trial period to see if this interests our audience. So head over today and like, share and download a few episodes! https://buff.ly/3KmTZZd
I am only on FB now by the grace of God. If you want to stay connected, here is one way…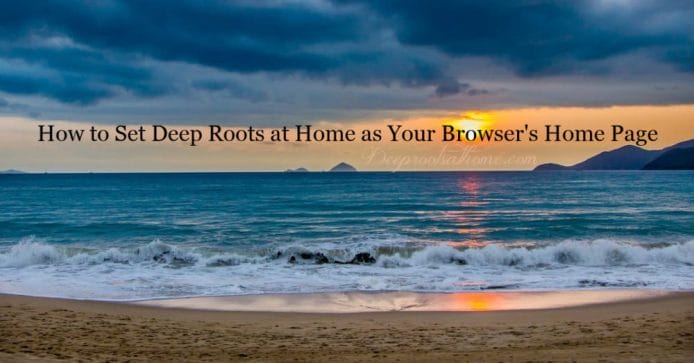 You can also find me on Instagram, Truth Social, MeWe and Telegram.
Medical Disclaimer:
I am no longer a practicing medical professional, and I am not doctor. I am a mother. I do seek scientific confirmation of the safety and effectiveness of the herbs and remedies I use. Using remedies is a personal decision. Nothing I say on this blog is intended to treat or prevent disease. Consult your own doctor.
Jacque's Update: Facebook and social media platforms are cracking down on Conservative/holistic health content. Many of you have complained that you never see our content in your news feeds on social media. There's only one way to fight back — and that's by joining my FREE newsletter. Click here.
©2023 Deep Roots at Home • All Rights Reserved