Did you know the FDA told us Innova PCR Tests Are Dangerous & Inaccurate? Millions have been used and now they say that they can cause serious adverse health consequences or death?
At minute 10:30, see the hundreds of testing companies that the FDA recalled. And learn WHY!
And at 20:30, hear Sir John Bell of Oxford University say, "These vaccines are unlikely to sterilize an entire population." Was that a slip of the tongue?
The strange thing is that they said they were recalling them but actually never really pulled them. They continued to use them and in many places are still using them to this day.
Were You or Are You (Still) Exposed to Ethylene Oxide Repeatedly?
Did you know COVID test swabs are regularly sterilized with ethylene oxide (EO), a highly toxic odorless gas?
Millions of people have been tested, some workers are tested regularly, and now they're forcing these swab tests upon children for school or other reasons. Just like the PCR test, they cannot detect infection, so this places you or your loved one at risk.
The Nasopharyngeal swab sample is being taken from an extremely delicate area right at the blood/brain barrier. This medical procedure is a violent and invasive exploitation of your basic rights to choose what's delivered into your body.
**For the FULL PROTOCOL (including NAC) to protect from transmission from the "V" and to help those who took the "V", go here.
Harmful Effects of Ethylene Oxide
In the industry, it is widely known that exposure to Ethylene Oxide causes lymphoma, 7 cancers, neurotoxicity, and an increase in numbers of miscarriages. (source)
And what a coincidence, that with even very low exposure, ethylene oxide also causes respiratory irritation, shortness of breath, headaches and nausea (pg.2).
And how interesting is that— that those last symptoms stated are the exact same symptoms of Covid-19 itself!
Most hospitals and testing facilities buy from China which use EO sterilization for masks and test swabs: here, here, here, here, and I could list more ad infinitum!
Please understand that you are sticking a carcinogenic ethylene oxide coated swab up to to the most vulnerable part your skull (the sella turcica) without knowing what it may do to you long term.
The pituitary gland itself sits in the sella turcica.
Saliva testing is known to perform at the same levels. A study involving 5900 participants shows that saliva-based testing detected positive COVID infections 83% of the time. Nasal swabs detected them 85% of the time.
The same study also revealed that saliva testing shows 99% accuracy in detecting negative cases.
Test Swabs & Masks Contain Strange Fibers That Move On Their Own
Black worms or parasite-looking Nanotubes have been found in masks and Covid "tests" around the world, embedded in the tiny fibers. They cannot be seen by the naked eye but when held under a microscope they are visible.
Nanotubes are motionless until activated by heat and moisture, and then they wiggle just like a parasite.
2 minutes.
What does the discovery of Hydrogel Nanotechnology in masks and Covid "tests" mean for us? These Carbon Nanotubes were designed to enhance immune responses as a vaccine delivery system.
I believe Covid vaccines, masks, and tests are not being administered for our protection.
These are experimental medical devices programmed to penetrate your cells and deliver a deadly payload, directly into your cells for genetic engineering.
A groundbreaking new study revealed that experimental Nanotech medical devices are already being used in 43 leading vaccines.
Nanotech has long been fed to us in our foods. It's labeled as a "vitamin and mineral supplement" and is disguised in other ways, despite that it's known to cause leaky gut syndrome and autoimmune disease.
**For the FULL PROTOCOL (including NAC) to protect from transmission from the "V" and to help those who took the "V", go here.
In April, Health Canada warned of "microscopic graphene particles" (asbestos-like substance) used in masks which cause "cytotoxic effects on lungs."
In other words, they're causing lung damage.
Graphene-based materials kill bacteria and that's the selling point but when used in face masks it's "comparable to breathing in asbestos all day long", says Health Canada.
Graphene was designed as a drug and vaccine carrier. "Graphene is used for DNA sequencing and manipulation."
Following ingestion and inhalation, Graphene carrying nanobots easily cross the blood-brain barrier. They're proven to be toxic to human tissue and cell cultures, resulting in oxidative stress, inflammatory cytokine production, and DNA mutation. They are also being programmed to "cause altered rates of cell death."
Originally, Nanotube technology was developed as "DNA altering" gene therapy to be used to treat cancer. Now Nanotubes are being used in an array of products, including masks and Covid "tests" WITHOUT Informed Consent.
Please share this with family and friends that do not know this.
We are all sitting ducks until we know enough to avoid or refuse this dangerous abuse.
"Beloved, do not believe every spirit, but test the spirits to see whether they are from God, for many false prophets have gone out into the world." ~1 John 4:1
***For the Full Spike Protein Protocol (including NAC) to protect from transmission from the "V" and to help those who took the "V", go here.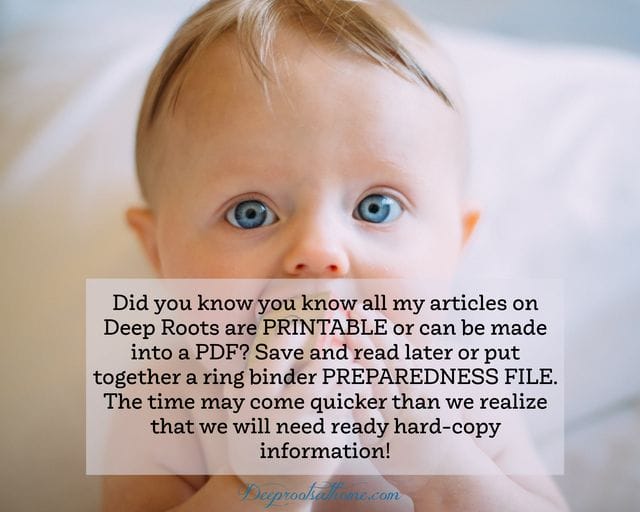 Medical Disclaimer:
I am no longer a practicing medical professional, and I am not doctor. I am a mother. I do seek scientific confirmation of the safety and effectiveness of the herbs and remedies I use. Using remedies is a personal decision. Nothing I say on this blog is intended to treat or prevent disease. Consult your own doctor.
©2023 Deep Roots at Home • All Rights Reserved