If you don't have a cold frame, here are some green edibles that can survive a while in the snow and cold. Go too long, however, and you will eventually lose quality.
When we had a temporary warm-up here in the Midwest 3 days ago (Jan. 9), I bundled up and took some photos to show you some annual plants that might survive (or even thrive) in snow in your garden in January depending on where you live (and depending on the winter).
Note: we don't have a cold frame as of yet.
If you are in Michigan and all the way up to Minnesota or South Dakota, I'm pretty sure you can forget trying without a cold frame, but if you are in or south of Midwestern states like Ohio, Illinois, Indiana, Kentucky or Missouri, you may already know that you can may be able to grow these things and more over the winter months.
The only benefit of snow in this case is that it acts as an insulator, protecting hardy plants from the wind, cold, and frost, but if it ever melts off, the plants will die back until spring.
My husband just told me that the coldest it has gotten so far this winter is 4° at night. Although it is hovering around 55° as I type, we've already had weeks of true winter weather in December and it is headed back into the teens. I took these photos to show just how hardy several annuals can be, but I can't guarantee this will always be the case somewhere else.
It depends on your specific micro-climate.
Italian flat-leaf parsley is but one garden plant that can withstand a bunch of freezing and snow in the Midwest. You potentially can make fresh tabbouleh in January!
Romaine lettuce has also been a good one for us, withstanding snow and freezing temps like the herb parsley. It's flavor under these conditions is not exactly the same as summer Romaine, but it is nice to have greens that can be used without too much sacrifice in taste.
If the weather had not warmed up, I'm pretty sure we would not have been able to harvest any more this winter. It would not tempt me to get all bundled up to dig through the snow for some lettuce 🙂
Swiss chard (Bright Lights, Rt.) is still unfurling new baby leaves and the texture and taste is excellent…after all, it is grown in Switzerland, thus its name. It literally loves the snow, but grows very well in serious summer heat, too.
Red Russian Winter kale (above, left) is another, like Swiss chard, that loves snow, still puts on baby leaves, and somehow tastes even better after frost or snow. Sauté chard or kale with caramelized onions on a really cold day and add real butter, some sea salt, black pepper, and a splash of balsamic vinegar, and you have a real treat that is also very good for you! These are ideal for adding to soups and casseroles in place of spinach, too.
The same kale during the summer (actually in October).
And the only other thing left in my garden this January that's worth anything is the herb thyme. It still can be snipped and dried for cooking in quantity during the summer (below).
And it certainly can be harvested now, but I wonder if the cold and snow makes it more or less potent or flavorful as an herb. I am bringing in a handful of sprigs to use for a lamb roast this week as a test. Does anyone have experience with this?
Uhmm, Uhmm… Thyme gives an unbeatable flavor and aroma sprinkled on homemade pizza even in January. Also great on a roasted chicken!
Now, The 'Cool' Winter Cold Frame
Here are a few helps from around the internet showing cold frame ideas to extend your season. Some are in the most northern states. Something to ponder~
~~Turnip Truck, Organic Kitchen Gardens, Bucks County, Pennsylvania
Jenn McCracken says, "LOCATION is everything! Ours runs the length of an ancient stone wall, facing south. This is the ideal spot for a cold frame, as the stone absorbs solar energy during the day and radiates it back out at night, helping to regulate the temperature of the greens and keeping them a few degrees above the ambient temperature."

~~This  next one is in Maine! This article by well-known gardener Eliot Coleman is a great resource. Four Season Farm is an experimental market garden in Harborside, Maine, owned and operated by writer Eliot Coleman. The farm produces vegetables year-round and has become a nationally recognized model of small-scale sustainable agriculture.
Coleman says, "Probably the most important point in using a cold frame is to start your plants early enough."
"This simple bottomless box with a removable glass or plastic lid protects plants inside from excessively low temperatures, wind, snow, and rain. In doing so, it creates a micro-climate that is a zone and a half warmer than your garden."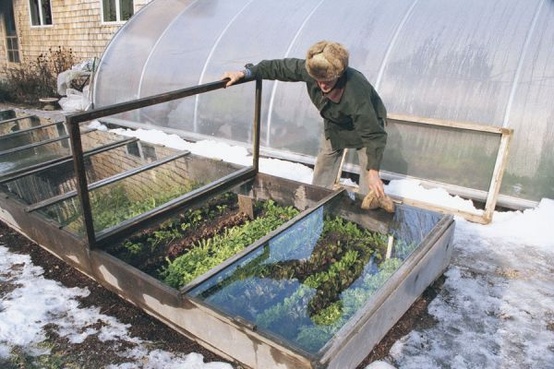 "My garden may be in Maine, but the plants in my cold frame think they're in New Jersey. A cold frame in New Jersey provides Georgia weather. The result is a harvest of fresh vegetables all winter long."
"The beauty of a cold frame is that it's simple. Mine would have been familiar to a gardener a hundred years ago."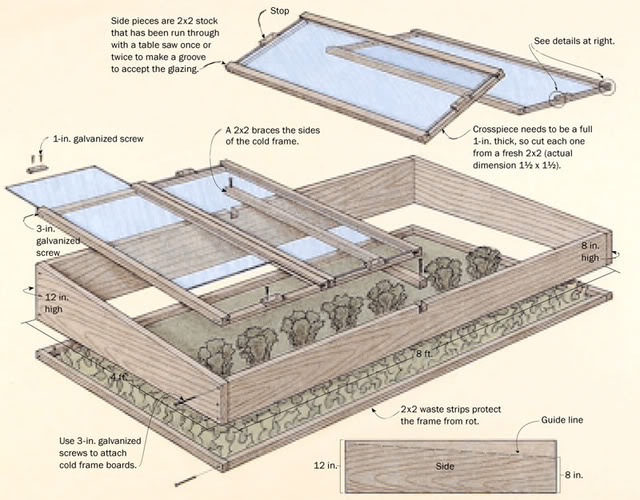 ~~Beth Gellman of St. Louis, Missouri, writes a helpful post entitled Cold Frames 101.
~~And finally, here are a few visuals to consider. Always facing south, rich soil, out of the wind, and close to your home for accessibility are the biggest factors.
 (source Pinterest)
This is the perfect time to plan for next year. Once spring pops, you will likely be too busy. Enjoy this creative time and get prepared now. Involve your children, too. Remember, more is caught than taught. Your excitement will rub off!
Pin It! Pin It!
Happy planning!
"Half the interest of the garden is the constant exercise of the imagination."
~Mrs. C. W. Earle
If you are encouraged or informed by something you have read here at Deep Roots, please consider liking my page on Facebook or subscribe via Feedburner. Thank you so much!
Thanks for reading!