Not only are antibiotics becoming less effective, now there's a Canadian study (funded by the US Office of Naval Research) that shows even low-doses of penicillin (Ampicillin, etc.) may increase aggressive behavior and long-term behavioral changes – especially in children.
[Certainly, there are other causes of antisocial behavior – from bullying at school to genetics and family history, as well as violent, unstable, or tumultuous home life, but that is outside the scope of this post.]
Other studies have shown that broad-spectrum antibiotics in adults can affect behavior, but this is the first study proving that even a small amount of antibiotics can have behavioral consequences in our youngest.
Did you know there are antibiotics in some vaccines, too?
The findings are particularly disturbing because:
"There are almost no babies in North America who haven't received a course of antibiotics in their first year of life. If mothers are passing along the effects of these drugs to their as yet unborn children or children after birth, this raises further questions about the long-term effects of our society's intake of antibiotics."
We know now that antibiotics wreck havoc in the microbe balance (microbiome) in the gut, can lead to psychological problems ranging from anti-social and aggressive behavior to Post Traumatic Stress Disorder (PTSD) to halting brain cell growth.
Antibiotics Annihilate Good Microbes & Create Antisocial Children
A big function of the GI tract is to help in the production of neurotransmitters – chemical messengers, which are necessary to help with mood. Whenever we disrupt the normal flora in our gut, we also disrupt the way our brain receives and sends messages. Our microbiome is thrown into a state of "dysbiosis" – or total disruption of absorption and even leaky gut causing behavioral problems common to leaky gut patients. Testimonies of the GAPS diet shows it helps heal dysbiosis over time.
Antibiotics Cause Rapid Mutations (Spread) of Resistant Bugs
WATCH THIS! I never knew this happened SO fast! Two minute teaching moment, so get your kids to watch this with you!!
Bottom line – we need a replacement for antibiotics.
Next, I will show you what we have used for over 15 years as a major part of our natural health arsenal. Another part (that I will not discuss here) is my essential oil antibiotic blend which I have used for many, many years.
Silver, the Gentler Natural Antibiotic
A safe, natural antibiotic existed before penicillin, and those who had it (although often limited to royals and the wealthy elite) survived quite nicely. Today, in light of antibiotic resistance, silver is is growing in popularity as a functional defense. Silver has proven to be effective for humans as well as cats and dogs.
This is our go-to silver: American Biotech Labs SilverBiotics Immune System Support 16oz (it is nanosilver, not colloidal). I loved reading the Amazon reviews!
This silver product has a shelf life of decades.
Our family took this for a very nasty well contamination which tested positive for giardia, Cryptosporidium, Campylobacter, E. coli, Enterovirus, shigella, rotavirus, norovirus, salmonella and more. We were all quite sick, (one person in the family had boils erupt in the groin area, so it was used topically there) —and it turned us around fast. Now, we also use it when traveling in country and internationally. We rely on it.
Our dosage: For the well contamination (an acute situation), we all took 1/2 cup this silver 2 times the first day, then 1/4 cup twice a day for 2 more days, then the 1 tsp. a day for weeks (and went through 2 bottles). If you use it orally for more than a few days, it is helpful to give a probiotic 2 hrs before & after to aid the gut microbiome.
This works without the side effects of antibiotics!
In a GEL: American Biotech Labs Silver Biotics Silver Gel Infused w/SilverSol Nano-Silver Technology
We did not need to go to the doctor! We also supported with Vitamin C (using Na Ascorbate) (to high dose levels), milk thistle, dandelion tincture, and elderberry tincture or syrup. We have used it for other acute infections, as well, but I recommend you ask your doctor about silver.
Nano Silver vs. Colloidal Silver
Nano and Colloidal refer to the size of silver particle suspension in a pure deionized water solution. Nano technology has significantly evolved in the last few years allowing silver to be 2 nanometers in diameter; much too small to be categorized as colloidal. The smaller nanoparticles increase the silvers' total surface area, creating a calculated advantage of 40 to 1 in terms of potency when compared to a colloidal solution. The increased concentration of nano silver has proven to have a superior advantage over colloidal products in penetrating harmful pathogens, biofilms, and cells in the body.
Another quality that separates nano and colloidal silver is the percentage of silver in metallic form versus ionic form. Only metallic particles can survive the hydrochloric acid in the stomach, allowing silver particles to remain effective as they enter the bloodstream. At best, colloidal silver solutions may contain 5-10% metallic particles, with the remaining particles in the ionic form. Ionic silver converts into silver chloride in the stomach, making it near useless when entering the bloodstream. Nano-silver consists of a very high percentage of metallic particles, making it far more soluble than colloidal and much more effective.
Science Shows Silver's Amazing Benefits in Place of Antibiotics
I am glad we have antibiotics for true emergencies. Work with a functional doctor and consider the vast array of other alternatives and learn what works for you.
***For the Full Spike Protein Protocol (including NAC) to protect from transmission from the "V" and to help those who took the "V", go here.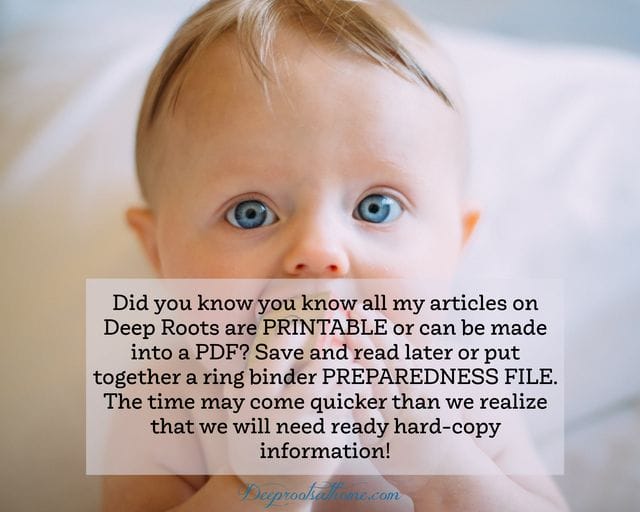 ©2023 Deep Roots at Home • All Rights Reserved