I received a serious inquiry from a young man. He asked:
"Hello, Jacqueline. Is it dangerous to date someone seriously/have sex if they have gotten the vaccine 6 months ago.. Will I get those calamari blood clots from that? I'm not sure if that's from spike proteins or graphene oxide, but surely the shedding wears off after some time?" ~M.B.
Only 2 years ago it would have been unimaginable to write this blunt response to his inquiry, but the outcome of our future is, in large part, based on the choices we make today.
"M, while we don't know everything yet—yes, sadly it appears the effects of the spike protein can last a very long time because the mRNA is designed to make the body MAKE MORE spike protein. Perhaps, we will find they don't, after all, but I recommend looking for [a monogamous marriage to] a 'pure blood' who avoids pharma at all costs.
The evidence is piling up:
Read this: Untainted blood (and "sperm from unvaccinated men") are in high demand: Unvaccinated Blood Banks: Growing Movement For Clean Transfusions
Also, the organs the spike proteins target are the ovaries among other organs: Pfizer's Own Data: Evidence Where the Spike Protein is Going in Your Body
Who's affected by the spike protein? We are all affected.
1. Clearly, Page 45 from this PDF by Johns Hopkins University (2018) reveals that self-spreading vaccines can be used to SPREAD the VACCINE "without requiring each individual to be inoculated."
And 2. Pfizer openly admits their experimental mRNA jab TRANSMITS "when a person receives UNPLANNED direct contact". [Click To View Full PDF: See Occupational Exposure (Page 69)].
Inhalation and skin contact are both mentioned.
And for a woman:
Sterility (loss of fertility) by 'second-hand' transmission has always been known by Pfizer, and may in fact be the goal. This technology is immorally vaccinating the unknowing unvaccinated populations that make "unplanned contact" with the injected population. Just read some of the bullet points on pg. 67 and 68 in the PDF under the section: 8.3.5.1. Exposure During Pregnancy!
Dr. Peter McCullough confirms and explains in 3 minutes.
"It's conceivable that 2 vaccinated people could actually pass the code for Pfizer and Moderna into the baby permanently."
M, I'm giving you the best medical answer to your question that I know at this time. There are many things that we can do to rid the body of the toxins in the shots, and we may be able to break down spike protein in the injections with specific foods, but we cannot undo the permanent changes to the DNA. On a spiritual note, may God help you find hope and faith in Him during this very difficult time.
Sending peace and praying for you,
Jacqueline
M.B.'s reply: "That's unfortunate 🙁 It seems like the majority of people my age have gotten the vaccine. I appreciate your honesty and not beating around the bush. Thank you!"
*******
A Prayer for Hope: Lord, Your Word promises "no good thing does He withhold from those that walk uprightly" (Psalm 84:11). I wait upon You for Your definition of the "good thing" You will not withhold from me. As David prayed in Psalm 18:1: "I love you, Lord, my strength. The Lord is my rock, my fortress, and my deliverer; in whom I take refuge, my shield and the horn of my salvation, my stronghold." May these hopeful scriptures remind you to seek the Kingdom of God first, and all things needful will be added unto you! In Jesus' name.
***For the Full Spike Protein Protocol (including NAC) to protect from transmission from the "V" and to help those who took the "V", go here.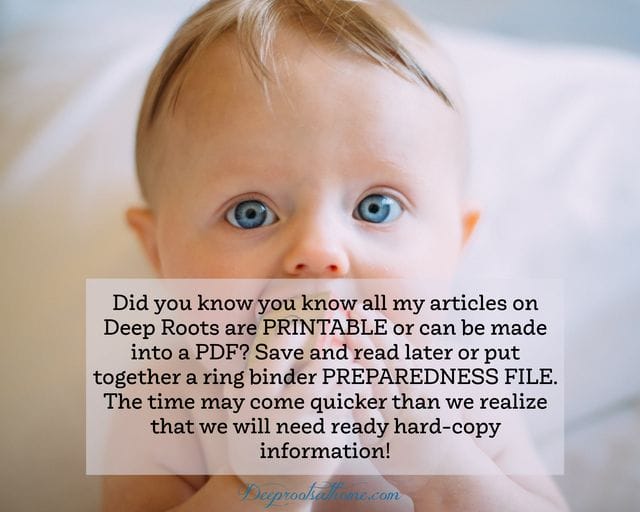 ©2023 Deep Roots at Home • All Rights Reserved