Nebulizing your baby or child with saline is a common treatment for RSV and will likely keep many of them out of the hospital.
As I will show, good science supports the use of nebulizing saline into your sinuses, throat and lungs. It is what respiratory therapy does in the hospital and easy to do at home. I will also show how to use a hydrogen peroxide (HP) mist in the second half.
If everyone had this simple device called a nebulizer at home, we could lessen the chances or prevent getting tangled up in the medical system.
These are simple, straightforward ways to combat infections and can be used both prophylactically after known exposure and as a treatment for mild, moderate and even severe illness.
Saline Nebulization Helps Clear Airway Infections & Nasal Passages
Inhaling nebulized saline is excellent. Researchers found nebulizing normal saline (o.9%) to be an effective, safe treatment for acute viral infection in the small airways of lungs. (source)
An even earlier double-blind study in the Journal of Pediatrics, assessed the effectiveness of nebulized hypertonic saline in the treatment of viral bronchiolitis (RSV, etc.) in infants. Here, they found that nebulizing with 3% hypertonic saline reduced the length of hospital stays by 26% in infants with moderately severe infection, compared to nebulizing with standard saline (0.9%).
Sources: You can find 3% hypertonic saline or standard saline (0.9%) at some pharmacies, eBay, or on Amazon.
Here's a good, dependable desktop nebulizer.
Make Your Own Saline: You could make your own by mixing one teaspoon of unprocessed salt (such as Himalayan salt, Celtic salt or Redmond's real salt) into a pint of water. This will give you a 0.9% saline solution, which is about the concentration found in body fluids. (source)
Hypertonic saline, which has a higher salt content than normal saline, is a known mucolytic, meaning a mucus thinner. (source) Salt attracts water. When inhaled, the salt attracts water, thereby thinning any mucus lodged in your airways. This makes the mucus easier to expel when you cough. According to the authors:
"The treatment was well tolerated, with no adverse effects. The use of nebulized 3% hypertonic saline is a safe, inexpensive, and effective treatment for infants hospitalized with moderately severe viral bronchiolitis (RSV)."
In addition to that, 1.5% hypertonic saline has also been shown to be 100% effective in blocking SARS-CoV-2 replication, without any side effects. (source, source) Its mechanism of action is surprisingly simple: When you breathe it in, the extra salt forces your cells to expend ATP to rebalance their electrolyte gradient. Viruses also need ATP to replicate, so by using up ATP, the cells have far less ATP left for viral replication. So cool!
**For the FULL PROTOCOL (including NAC) to protect from transmission from the "V" and to help those who took the "V", go here.
A pharmacist endorses use of hypertonic saline for RSV (bronchiolitis), COPD, and asthma. 1 minute video here.
Baby's Treatment (most will hold their baby on their lap)
Best results are with a desktop nebulizer as it delivers it further into the lungs.
Peroxide Nebulization For COVID Resolution
Read: Dr. Mercola: Nebulized Peroxide, the Single Most Effective Early Strategy
Dr. Mercola turned to the documentation from two medical doctors who have used nebulized peroxide extensively in their practices. In a May, 2021, Orthomolecular Medicine press release, Dr. Thomas E. Levy — board-certified in internal medicine and cardiology — discussed the use of this treatment for COVID-19 specifically.
Dr. Thomas Levy is someone I really enjoy reading. His commentary about Hydrogen Peroxide (HP) Nebulization and COVID Resolution explains exactly how powerful nebulizing HP is – wherever you are!
In summary, Dr. Levi took a trip to Colombia in 2019, where he treated his wife's friend with an acute febrile respiratory infection using the nebulizer and 3% HP he had brought with him on the trip. He left it with her and soon the pandemic hit. Months later, he and his wife returned to Columbia to find the woman had used his nebulizer and 3% HP to successfully treat some 20 different individuals with COVID infection. "Of particular note is that some of the patients had such advanced infections that severe respiratory difficulty was apparent. In a similar setting in the United States early in 2020, all of the patients having such severe shortness of breath would have been promptly intubated and given mechanically-assisted ventilation on respirator machines."
This true story anecdotally illustrates the power and reliability of nebulizing 3% HP in the event you are an independent thinker, can follow simple directions, and want to stay out of the hospital with early prophylactic or acute use.
More Evidence Supporting Saline & Peroxide Nebulization
Dr. David Brownstein and six other co-authors, published a study on nebulized peroxide for COVID-19.
"A total of 91 COVID-19 subjects (85%) utilized the nebulized solution. They reported no adverse effects. We have been using nebulized saline/hydrogen peroxide at this concentration for over two decades in his practice. Is nebulized peroxide diluted with saline, with or without iodine, dangerous? No. There's no evidence to suggest there's a danger to this protocol, unless you radically violate recommendations on dilution." ~Dr. David Brownstein
Note: to optimize your benefits and success, be sure to obtain an electric tabletop nebulizer. Dr. Mercola points out, the battery-driven handheld versions aren't as effective. In nearly all cases where patients were not getting better, they were using a handheld nebulizer. Once they got the more powerful version that can drive the peroxide deep into the lungs, the treatment worked as it should.
You can use either food grade or stabilized HP, although, I would recommend using 3% food grade hydrogen peroxide instead of stabilized 3% hydrogen peroxide.
Many have used 3% in the brown bottle in an emergency to stay out of the hospital.
Another Resource: Nebulizing Nanosilver or Glutathione for Lung Ailments: The How To
****For the Full Spike Protein Protocol (including NAC) to protect from transmission from the "V" and to help those who took the "V", go here.
"You will keep him [us, his children] in perfect peace,
Whose mind is stayed on You [God],
Because he [we] trusts in You [God]."~Isaiah 26:3, NKJV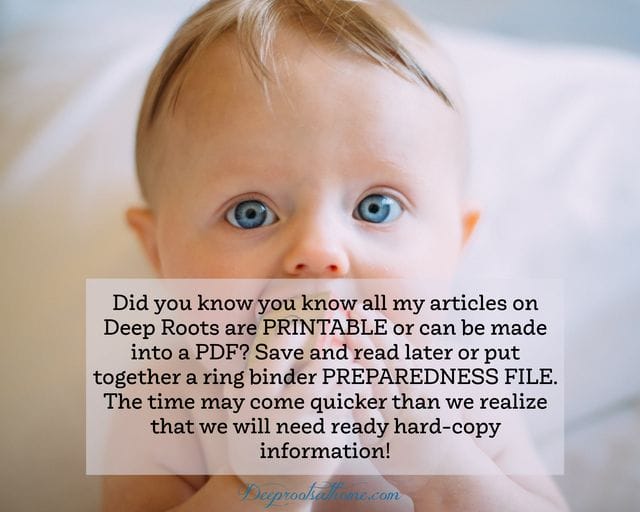 Medical Disclaimer:
I am no longer a practicing medical professional, and I am not doctor. I am a mother. I do seek scientific confirmation of the safety and effectiveness of the herbs and remedies I use. Using remedies is a personal decision. Nothing I say on this blog is intended to treat or prevent disease. Consult your own doctor.
©2023 Deep Roots at Home • All Rights Reserved