Most of the foods you buy in the grocery are packaged with the idea of you using it within a relatively short period of time, like a couple of months.
What you really need to store are true staple foods. You can make a fairly nutritious diet out of grains, beans and canned goods. Properly packaged for storage, these foods will keep for years, and still be as tasty and nutritious as they were the day you bought them.
Since there is no way of knowing for sure what type of disaster is likely to strike, base your purchases on the assumption that few foods will be available. That may require eating things that your family isn't used to eating. Nevertheless, eating strange food is better than not eating anything at all.
It is important to note that all of these foods will have an increased lifespan when kept in a cool, dry space.
Before I begin, do NOT forget to make provision for water available without electricity!
Here is my list of foods that you should stockpile to get your family through a crisis:
Whole grains – Flour doesn't store well, but whole grains do. If you have whole grains and a grain mill, you can make your own bread, pancakes, and other baked goods.
Rice – White rice stores very well – far longer than brown rice – due to the higher fat content which goes rancid with time. Buy whole grain rice, not quick rice due to a very limited shelf life. Combine beans and rice for a budget-friendly complete amino acid profile.
Beans – Dried and canned beans of all types store incredibly well for long periods of time, are easy to cook, nutritious and one of the few non-meat sources of protein around. For older beans, use a few pinches of baking

soda which

is a natural tenderizer.

Pasta – Stores almost forever well when kept away from moisture and packaged to keep out bugs. You can make a lot of different dishes with pasta, from Italian food to casseroles. We prefer the amazing Tinkyada GF brown rice noodles which cook up without mushiness!
Canned meat – You can buy chicken, tuna, salmon and other meat products which are canned. Spam, a joke to many people, is a budget-friendly meat product that could keep you alive. Meat will be the hardest type of food to find during a crisis, so stock up well.
Beef (or turkey) jerky – Dried meat, whether jerky or dehydrated meat, is great for long-term storage. If you make your own jerky, be sure to trim off all fat and salt it heavily for preservation. When it's time to use it, you can reconstitute the jerky in soups. It will absorb the water, flavoring it at the same time. Be a label reader watching for hidden msg.
Summer sausage – Summer sausage, like many "cured meat products" (what we call lunchmeat) is created to keep for a long time. Typically it is vacuum packed as well, making it ideal for long-term storage. During survival time, it can be eaten plain, or cut up to be put in soups and casseroles.
Cheese – Another great source of protein. To store cheese, it needs to be triple dipped in wax, making an airtight seal around the cheese. In this form, it can be kept, without refrigeration, for years. Even if cheese forms mold, it will only be on the surface. Simply cut that part off and the rest of the cheese is still good.
Canned vegetables and fruit – Provides essential vitamins and keeps for a long time. Don't throw the packing water away, as it will contain vitamins as well. Instead, use it for making soup stock.
Spaghetti sauce – Try to buy in glass instead of cans as tomatoes are acidic and can leach toxins from cans. With versatile spaghetti sauce and pasta, you've got the start of a meal. Add what you want to finish it out.
Oatmeal – Don't buy the sugary individually packaged varieties, but the old-fashioned rolled oats. It will keep well for a long time. Soak over night before cooking to draw out the phytic acid.
Salt – Salt is an essential for survival. It's also the main needed ingredient for many types of food preservation, especially for preserving meats if your freezer goes down. With a good stockpile of salt, you can make cured meats, salt fish and smoke meats as well. (You will also need food grade pails in which to salt your meat. I will be doing a post on this).
Powdered milk or canned coconut milk – When you don't have any access to other milk, it's wonderful. We have decided that canned coconut cream is a better option due to the nutritional, medicinal profile of coconut.
Raw Honey – While sugar keeps indefinitely, honey will keep forever. It is also an amazing preservative, a powerful medicinal, and valuable for wound healing. You can't beat nature's methods for making things that are both good and good for you. This cannot be said of most store-bought honey.
Raw nuts and seeds– A nutrient dense source of good fats and protein. Nuts (think whole almonds, walnuts) freeze beautifully until you need them, preventing rancidity. Save your pumpkin and squash seeds!
Sugar – While most mothers try and keep their kids from eating too much sugar, it is an essential ingredient in making jams and jellies, preserving fruit, and baking. Sugar will keep pretty much indefinitely if stored properly. Keep enclosed against ants and other critters.
Spices – Spices such as garlic, turmeric, cinnamon, black pepper, and cayenne are amazing for health. Spices also allow you to mask flavors or add flavor to things that are too bland. Kept cool, they will last practically forever.
Baking essentials – If you don't bake your own bread, find and copy a good basic recipe. Make sure you have a stock of baking powder, baking soda and dry packaged yeast on hand.
Peanut butter – A pure comfort food, but high in fat and protein.
Dried fruit – Properly dried and packaged, it stores well for several years.
High quality oil – (think coconut oil which keeps for years). Extra-virgin olive oil stores for a long time if refrigerated. I simply do not use the highly-processed GMO oils like canola, corn, or "vegetable oil."
Coffee and Tea – Stopping coffee cold turkey will cause migraines for most, so have some to slowly wean if coffee is not going to be available. Herbal teas, on the other hand, are often medicinal and having them on hand for a variety of needs is wise! Be aware of tea brands that have chemical additives. Fresh pine needle tea and dandelion tea are wide available and help block the spike protein!
Prepper's Booklist: Key Books & Tips For the Prepared Family
**For the Full Spike Protein Protocol (including NAC) to protect from transmission from the "V" and to help those who took the "V", go here.
If this seems daunting, start slowly and make a spread sheet of your needs, determining what is most important for your family.
Be a label reader and refrain from stocking up on foods that have disruptive additives. It will help you and your children feel your best during a stressful time. Be a label reader.
Dear Elisabeth Elliot used to quote this:
"Many a questioning, many a fear,
many a doubt hath its quieting here.
Moment by moment, let down from heaven,
time, opportunity, guidance are given.
Fear not tomorrow, child of the King,
trust that with Jesus, do the next thing."
"Do it immediately, do it with prayer,
do it reliantly, casting all care.
Do it with reverence, tracing His hand,
who placed it before thee with earnest command.
Stayed on omnipotence, safe 'neath His wing,
leave all resultings, do the next thing."
"Now if any of you lacks wisdom, he should ask God, who gives generously to all without finding fault, and it will be given to him." ~James 1:5
Be anxious for nothing, but in everything, by prayer and petition, with thanksgiving, present your requests to God. ~Philippians 4:6
"She is like the ships of the merchant; she brings her food from afar. She rises while it is yet night and provides food for her household and portions for her maidens." ~Prov. 31: 14-15
***For the Full Spike Protein Protocol (including NAC) to protect from transmission from the "V" and to help those who took the "V", go here.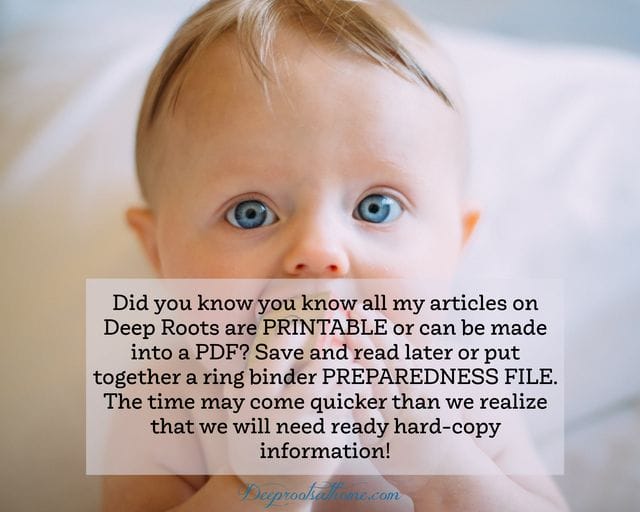 ©2023 Deep Roots at Home • All Rights Reserved