You'd certainly think the most popular allergy drugs and insomnia aids on the market would be safe, wouldn't you?
But a new, unique study outlines some frightening health risks to users. Indiana University School of Medicine researchers actually used brain-imaging technology to detect how anticholinergic drugs impact the brain. An anticholinergic agent is a substance that blocks the neurotransmitter acetylcholine in the central and the peripheral nervous system.
[An exception: I know there are patients (and parents who are involved in their child's life) using a medication as a best-case scenario.]
Using MRI and PET scan imaging, they showed how people taking anticholinergic drugs experienced lower brain metabolism and higher brain atrophy. Participants also scored lower on memory tests (1) due to the blockage of acetylcholine.
Drugs linked to dementia now include common anticholinergic drugs including popular medications like:
Subscribe to Email Updates
Ignorance Is NOT Bliss
So we throw up our hands and say, "Oh, great! Another thing I have to worry about."
Please try to look at this maddening information as a gift of knowledge, if you can. Ignorance is not bliss in this case. I do list reliable no-side-effect natural alternatives in a second.
Evidence of Drugs Linked to Dementia
This isn't the first time researchers found a connection between anticholinergic drugs and cognitive decline.
In 2015, a large study at the University of Washington also found the chronic use of certain anticholinergic sleep aids and hay fever meds increased a person's risk of dementia. (More research is needed to find out if continuous or intermittent use over that time frame leads to the increased risk of dementia.) (3)
Other drugs with anticholinergic action include some medications containing tiotropium used to treat respiratory ailments like COPD and asthma (Atrovent) (Spiriva) and solifenacin-containing drugs like Vesicare for overactive bladder problems.
Paxil and ALL these antidepressants, including benzodiazepines are known to cause damage to the brain. There is such a thing as antidepressant-induced dementia, Alzheimer's, fibromyalgia, insomnia, etc.
These are not true medicines. Medicines tend to healing. These are man-designed drugs that tend to destroying. They mask the root cause, they do not cure.
They may work initially… there is the deception and the lie. Initially they may help and then not so much so the doctor will up the dose or add another one, or switch it all together and then the brain is inflicted with more trauma from a change in this type of drug or and abrupt stop, not too mention the too-rapid-taper doctors are instructing to those wanting off their antidepressant or benzodiazepine.
There are many in online support groups who have been damaged, some severely and disabled.
These drugs are to be avoided at all cost!
Natural Remedies for Allergies & Insomnia
It's often possible to deal with ailments like allergies and insomnia without turning to prescription and over-the-counter drugs. Below are a few remedies to try⇓
Learn to Use Essential Oils (EOs) for Allergies
Peppermint Oil: Studies show that peppermint oil acts as an expectorant and provides relief for allergies as well as colds, cough, sinusitis, asthma and bronchitis. A 2010 study published in the Journal of Ethnopharmacology states peppermint oil acts as a relaxant and exhibits antispasmodic activity, inhibiting contractions that causes you to cough. (4) Remedy: Diffuse 5 drops of peppermint essential oil (EO). To reduce inflammation, take 1-2 drops of peppermint EO internally once a day by adding it to a glass of water, cup of tea, or a smoothie.
Eucalyptus Oil: Studies have shown us that Eucalyptus Oil opens up the lungs and bronchial tubes fast thereby allowing a refreshing flow of oxygen to calm the anxious patient. It lowers inflammation and improves all symptoms of allergies. Remedies: Diffuse 5 drops of Eucalyptus EO at home or apply it topically in a carrier oil to chest or temples. To clear nasal passages and break up congestion, pour a cup of boiling water into a bowl and add 1-2 drops of eucalyptus EO. Then cover your head with a towel over the bowl and inhale deeply for 5-10 minutes.
Basil Oil (linalool CT) (5 star reviews): Basil Oil reduces the inflammatory response of allergens, supports the adrenal glands and helps detoxify the body of bacteria and viruses. Remedy: Take 1 drop of basil EO internally per day by adding it to warm soup, salad dressing, or another dish. To support the respiratory system, dilute 2-3 drops of basil oil into 1/4 tsp. of coconut oil and apply it topically to chest, underarms, back of neck, temples or soles of feet.
And homeopathic allergy remedies (esp. Histaminum) are VERY effective and safe for my son and me. He especially likes to take these sublinguals starting the day before doing hay. They do not make him drowsy when he is operating heavy equipment!
Top 5 Natural Remedies and for Insomnia
Magnesium Calm non-flavored (as directed, 30-45 minutes before bedtime)
Melatonin (1-3 mg half hour before bed)
Promotes sleep for jet lag, etc., but is best used only for a short period of time. Melatonin should NOT be used In children and teens.
Calms Forte (homeopathic, no drugs, take as directed)
Somnapure – herbal blend (2 tablets 30-60 minutes before bed)
Passionflower (500 mg before bed)
Helps relax the nervous system and doesn't cause drowsiness.
Valerian (600-700 mg before bed)
Is effective for some for insomnia, but may be a stimulant for some. Also, for some valerian root can have the same anti-anxiety effects of prescription drugs without all the serious side effects of psychotropic drugs.
Calcium and magnesium together (500 mg calcium/250 mg magnesium) These minerals work together for relaxation.
Vitamin B12 (1500 mcg daily) Vitamin B12 supports cellular function and a deficiency can cause insomnia.
Diffuse lavender EO before bed and during sleep to reduce stress and improve sleep quality.
Diffuse rosemary EO with orange, tangerine or another citrus to awaken the brain. Rosemary increases memory according to this study.
Eat melatonin-rich, sleep-inducing foods like bananas, cherries, ginger or radishes as a bedtime snack.
Final Thoughts on OTC Drugs and Dementia Risk
While you shouldn't stop taking your medication without talking to your doctor, it's worth a conversation to see if your medications include anticholinergic drugs linked to dementia. If they are, inquire about possible alternative options with fewer serious side effects, including natural remedies.
***For the Full Spike Protein Protocol (including NAC) to protect from transmission from the "V" and to help those who took the "V", go here.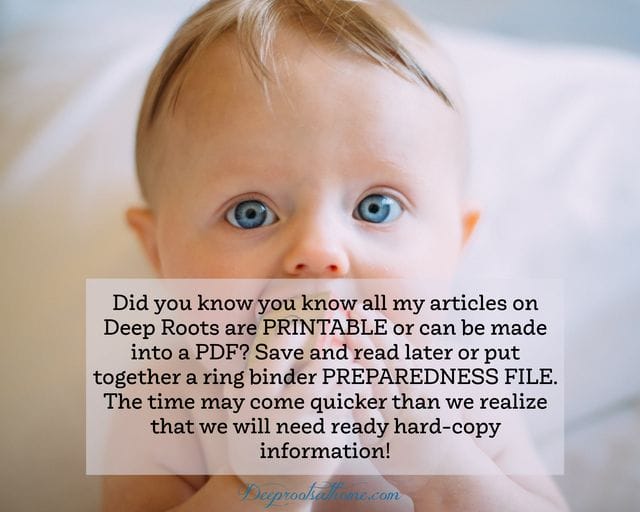 Deep Roots At Home now has a PODCAST! We are covering everything from vaccines, parenting topics, alternative medicine. Head over today and like, share and download a few episodes! https://buff.ly/3KmTZZd
I'm still on FB but shadow-banned hard… If you want to stay connected, here is one way…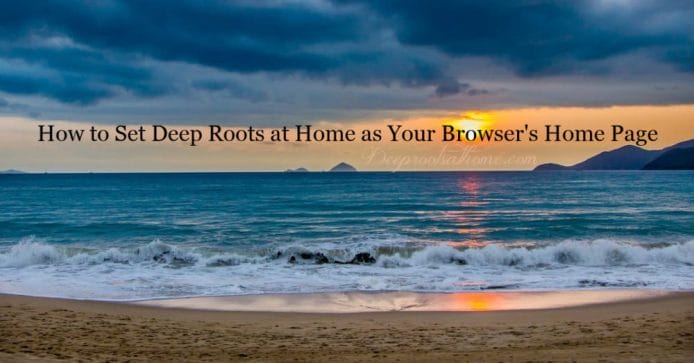 You can also find me on Instagram, MeWe and Telegram.
And please join me for my FREE newsletter. Click here.
Medical Disclaimer: I am no longer a practicing medical professional, and I am not doctor. I am a mother. I do seek scientific confirmation of the safety and effectiveness of the herbs and remedies I use. Using remedies is a personal decision. Nothing I say on this blog is intended to treat or prevent disease. Consult your own doctor.
©2023 Deep Roots at Home • All Rights Reserved