According to Wikipedia, "the name bonbon – or bonbons – refers to any of several types of sweets, especially small candies enrobed in chocolate.
"The first reports of bonbons come from the 17th century, when they were made at the French royal court. Their name arose from childish reduplication of the word bon, meaning 'good'."
But not only do these morsels (modeled after Reese's Cups) taste good, my bonbons are actually good for you!
For years I would sneak Reese's Cups, maybe one or two a month, but when I hit 45, I knew something had to change…the more processed sugar I ate, the more I craved it.
At 50, I had serious auto-immune symptoms, and they pointed to lupus. That was enough for me! Couple that with food allergies and candida yeast overgrowth in our children (from mold exposure), and I began to research better ways to feed my family.
Coconut oil to the rescue
Coconut oil is a part of that healing. Here is part of our journey to good health.
Coconut oil is a superfood no one should be without. The healthy saturated fats are an integral part to healing your gut. Lauric, capric and caprylic acids in coconut oil have antimicrobial, anti-fungal and antiviral properties. This is a real food medicine way to gently clean your GI system. Coconut oil should be organic, extra virgin and cold pressed.
But, I am way off track…Here is my 'Best Ever' homemade version of "The Bonbon" based on coconut oil.
The recipe is so simple.
Homemade Chocolate Mixture
Ingredients
Note: Makes 2-4 depending on how much nut butter, how many nuts, and the size of the wrapper/cupcake papers you use. Double or triple the recipe as desired.
Directions
Experiment with these amounts to suit your taste.

Mix

to remove any small lumps.

Note: If you do use honey and want to curb the blood sugar spike, add several shakes of cinnamon which stabilizes blood sugar.
Sometimes, a few spoonfuls of this power-house energy-booster is my quick mid-afternoon pick-me-up snack – eaten right off the spoon.
Local raw honey especially helps during allergy season.
My version of Reese's Cup Bonbons
Start on a cold tray or plate so the melted chocolate mixture (above) will not run once poured
Fill the cupcake papers part way with the (presweetened – see above recipe) basic chocolate mixture
Add a dollop of sunflower seed or salted almond butter (I am not a fan of peanut butter as it is notoriously high in mold spores (aflatoxin)
Optional: top with a selenium-rich Brazil nut (or your favorite nuts)
Sandwich that under more chocolate
Refrigerate immediately until ready to serve!
That's my little Reese's cup! It's a melt-in-your-mouth bonbon.
Eat it quickly, or it may just melt in your hand.
Brazil nuts are especially healthful, providing cancer-preventing selenium, but only eat two a day!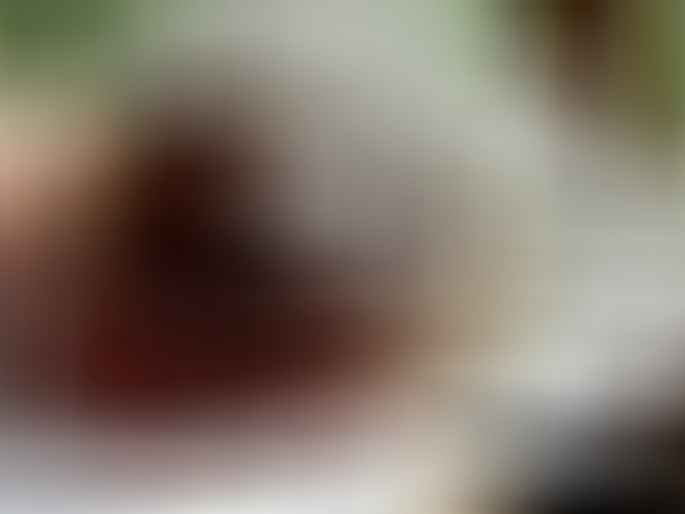 We like to make these little treats as dessert for a special meal or just as an 'I love you' gift!
6 More Ways to Use the Chocolate Mixture
1. Chilled raspberries on a chilled plate slowly topped with chocolate mixture makes raspberry clusters.
2. Top whole bananas with toasted pecans and drizzle it on for a pretty dessert
3. Drizzled hot over ice cream, it quickly makes a great magic shell because coconut oil gets hard below 76-77°
4. Add 1-2 drops (to taste) of mint extract to make chocolate mint chip flavor
5. Add 1-3 drops (to taste) of orange essential oil for a remarkable chocolate-orange taste treat
6. Add Madagascar vanilla bean extract for an extra special flavor
Offer your family a healthy alternative to the store-bought candy.
Can you think of other ways you could use this mixture?
©2023 Deep Roots at Home • All Rights Reserved