The health benefits of a primarily raw plant-based diet are very real for heart disease, fibromyalgia, cancer, diabetes, and other ailments.
If you are looking for a way to ditch pharma drugs like Metformin, Zantac and 3 common blood pressure meds that are contaminated with a jet fuel component NDMA, here's one solid route to consider.
This lifestyle will also be helpful for those who've taken a Covid jab(s). We KNOW God's gift of FOOD is one of the best antidotes for reversing the damage.
Heal Infection or Injection: Mercola's Food List to Clear Spike Protein Damage
Two Doctors That Give Us Results With the Plant-Based Way
Dr. Baxter Montgomery
1. Dr. Baxter Montgomery founded The Montgomery Heart & Wellness Center in 1997, and his mission since then is to reverse and prevent life-threatening illnesses. He combines his medical practice with food-driven lifestyle intervention and introduces patients to a plant-based diet to help reverse chronic conditions such as heart disease, hypertension, obesity, and diabetes without medications or surgery.
8 minutes.
[Caveat: I don't agree with everything he said above (we are not animals; we are created beings), however, being a past surgical open-heart nurse, I fully embrace that we CAN heal without the use of pharma drugs and surgery with a plant-based diet. Also he doesn't mention the many differences between truly pasture-raised, grass-fed/no-grain fed, non-medicated/no antibiotic, low stress meat animals vs. antibiotic and vaccine-laced, crowded and filthy, highly-stressed (very acidic) and sometimes sick feed-lot livestock. See Eat Wild's directory for farms local to you.]
The news story below features two of his recent patients who saw dramatic health improvements.
Rosalee Iles suffered from type-2 diabetes and heart disease. She had been taking insulin for over 20 years. Victor Fuller turned to Dr. Montgomery for help after his second open-heart surgery. After following his advice, Victor reversed his type-2 diabetes, lost 50 pounds, and got his heart disease under control. He also went from thirteen medications to four.
4 minutes.
To go deeper, Dr. Montgomery shares 4 more cases of incredible, life-saving help through a plant-based diet with Chris Wark (Chris Beats Cancer) here.
Michael Donaldson, Ph.D.
2. Michael Donaldson, Ph.D., studied biochemical engineering at Cornell University intending to enter into the biotechnology industry to develop pharmaceuticals. He soon realized that drug development was not the solution to health and not the career path he wanted.
Michael began reading nutritional science journals, and eventually discovered George Malkmus' book God's Way to Ultimate Health and The Hallelujah Diet. Michael became the research director for his organization Hallelujah Acres and has spent the last 24 years studying and published his research on the benefits of this diet for many ailments.
53 minutes, insightful.. lots of clear information!
Timestamps:
-B12 levels in the plant-based diet [5:56]
-Difference between raw food vs cooked food [7:28]
-Raw food diet for weight loss [14:19]
-The research that changed his mind on fish oil [16:10]
-The orthorexia phenomenon (unhealthy obsession with optimal nutrition) [19:45]
-Difference between juicing and blending. Does it damage the food? [24:45]
-The principle "Massive action produces massive results" [32:00]
-Dr. Dean Ornish's plant-based diet with fish oil showed reversal in PSA numbers in men with prostate cancer and positive gene expression [34:35]
-Dr. Donaldson's health heroes (Max Gerson who brought 50 cured patients in front of Congress, and they ran him out of the country) [36:50]
-How to jumpstart a plant-based diet [44:10]
Most functional doctors (but not all) can advise you on a plant-based approach to health. Find a functional medical doctor in your area here with this locator. Then interview them about their perspective on nutrition and food to find a good fit for you.
Another article in this series: MD Gets You Off Blood Pressure Meds with Food & Nutraceuticals
And beware: mRNA Gene Therapy Is Coming to the Food Supply THIS MONTH!
***For the Full Spike Protein Protocol (including NAC) to protect from transmission from the "V" and to help those who took the "V", go here.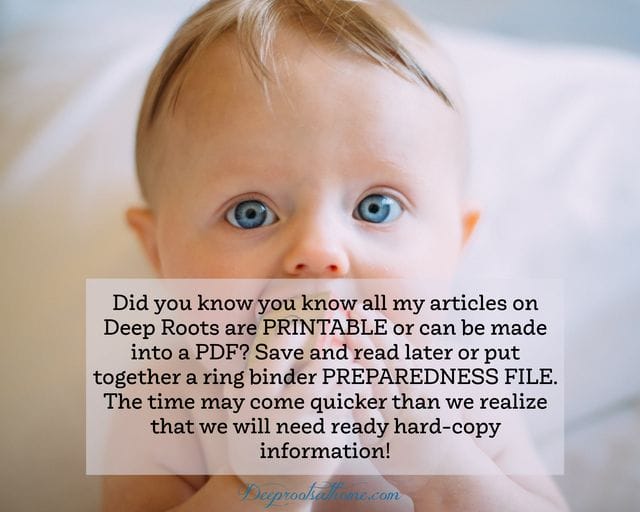 ©2023 Deep Roots at Home • All Rights Reserved