"The future of vaccines may look more like eating a salad than getting a shot in the arm." So said University of California Riverside scientists in 2021, working to turn edible plants like spinach and lettuce into mRNA vaccine factories.
"Ideally, a single plant would produce enough mRNA to vaccinate a single person," said Juan Pablo Giraldo. "Previous studies have shown that it's possible for chloroplasts to express genes which are not a natural part of that plant. Giraldo's team accomplished this by sending genetic nanotechnology material inside of a protective casing into plant cells." (source)
The fact that the food supply can be altered to act as a "vaccine" is indisputable. Here's a great Scientific American article from the year 2000 with a clear picture (look at page 3) of exactly how this would be done in vegetables. Here is a 2013 article published by the NIH (you know – by our government) talking about foods "under application" to be genetically-modified to become edible vaccines.
Remember that the additives in the mRNA vaccines are by no means "proven safe" and we don't even actually know what all is in these shots. There have been numerous reports of "crazy things" scientists have found in the jabs when they examined them. And the mRNA jabs still have not undergone long-term testing.
Attorney Tom Renz has been talking about gene therapy vaccines being introduced into the food supply without providing people informed consent.
I cannot 100% verify this is true, but (if someone has safely avoided being injected so far), this would be a nightmare scenario whereby people's genetics are potentially altered with "factory foods" without them even knowing.
BREAKING NEWS: the lobbyists for the cattleman and pork associations in several states have CONFIRMED they WILL be using mRNA vaccines in pigs and cows THIS MONTH. WE MUST SUPPORT #Missouri #HB1169. It is LITERALLY the ONLY chance we have to prevent this… NO ONE knows the the… pic.twitter.com/OQ6ti0Xsww

— Tom Renz (@RenzTom) April 1, 2023
The state legislature in Missouri is considering House Bill 1169 that would help halt this practice and/or require labeling of foods that contain mRNA "vaccines" (really gene therapy). Companies that are putting mRNA "vaccines" into the food supply have been doing so without informed consent of consumers.
They've given up on a needle in every arm. Now they're coming for the food supply.
Attorney Tom Renz in an eye-opening interview with Dr. Naomi Wolf. "They've been working on integrating these [vaccines] into our food supply (including meat) for at least two decades."
11 minutes.
Please take this possibility seriously, do your own research, and discuss it within your own circle of influence.
Think potatoes, tomatoes, lettuce, spinach, corn, wheat, rice, soybeans and possibly conventional feed-lot meat (beef and pork), chicken and more…
Can the Missouri Bill Help Prevent a National Food Supply Take-Over?
The pushback AGAINST House Bill 1169 in Missouri is huge. This well-written protective bill is only 2 pages long (you can read it here) and does not ban anything.
Big pharma DOES NOT WANT people to know that they are going to use the food supply to alter their genetics.
They also do not want farmers to know they are setting them up. The lobbyists opposing this bill (see below) are pushing to shut this bill down because factory mega-farmers like Bill Gates (now a mega-McDonald's potato farmer), Chinese-owned mega-farms here in the US, and others want to put vaccines in your food. These guys are supporting the big money at the expense of the family farmers. The problem is that the major factory-farmers like Gates have legal teams that can set up defense shields against the torts that may come if the food supply starts poisoning people.
The small farmers will be at risk of being sued if the food they are selling is unsafe despite the fact that most of them will not necessarily know what is happening.
If the corn growers, soybean, cattle, and pork associations actually cared about the farmers, they would indemnify (legally protect) the small farmers for these products rather than opposing a bill that gives transparency about what they're doing to the food supply.
Please call these people and tell them you want to see this bill passed. (HB 1169). And if you know folks in Missouri, please share it with them immediately.
We ALL need to fight back on this. If this bill passes in one state, other states would follow. It could help to protect the food supply of the entire country. That is why this bill is so opposed.
Action Steps:
The Balancing Act Between Being at Rest and Taking Action:
"22And he said to his disciples, "Therefore I tell you, do not be anxious about your life, what you will eat, nor about your body, what you will put on. For life is more than food, and the body more than clothing. Consider the ravens: they neither sow nor reap, they have neither storehouse nor barn, and yet God feeds them. Of how much more value are you than the birds! 25And which of you by being anxious can add a single hour to his span of life? 32 Fear not, little flock, for it is your Father's good pleasure to give you the kingdom. Sell your possessions, and give to the needy. Provide yourselves with moneybags that do not grow old, with a treasure in the heavens that does not fail, where no thief approaches and no moth destroys. 34For where your treasure is, there will your heart be also. Stay dressed for action and keep your lamps burning, and be like men who are waiting for their master to come home from the wedding feast, so that they may open the door to him at once when he comes and knocks. 37Blessed are those servants whom the master finds awake when he comes." ~Luke 12: 22-25, 32-37
***For the Full Spike Protein Protocol (including NAC) to protect from transmission from the "V" and to help those who took the "V", go here.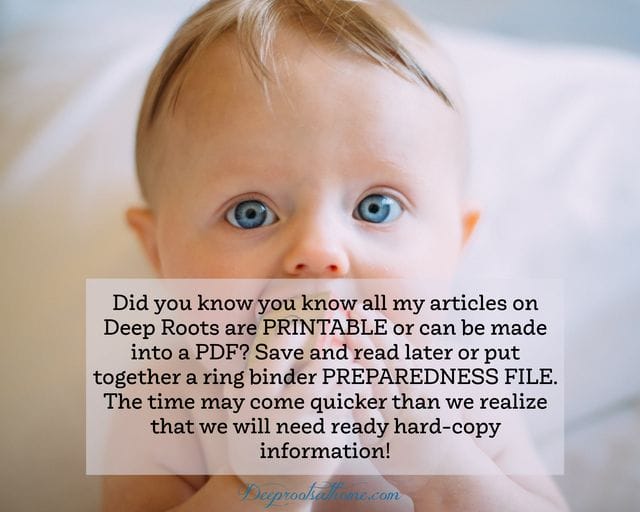 ©2023 Deep Roots at Home • All Rights Reserved