This morning while I was in the bathroom, my 1 year-old decided to take the Palmolive dish soap and "paint" our newly painted entrance way with it. Normally we use Seventh Generation which is clear and non-toxic but we had the bright green other stuff because it cleans Lovebugs off cars and lately we've been inundated with them and they'll ruin the paint on your car if you don't get them off.
Anyway, my poor little one's right eye was almost completely swollen shut, fire-y red and blotchy. I spent about 15 minutes trying to rinse the dish soap out of her eye at the kitchen sink and it just was not getting any better. So I put her in the tub and poured water over it again and again for another 15 minutes and it still was not getting better. The baby was so upset as was I!
I thought about giving her a [homeopathic] remedy, and I considered Apis Mellifica and Allium Cepa. But she had just taken remedy earlier in the week for Croup, and I did not want to interfere with anything that might still be working.
How Erica Made a Homeopathic Dish Soap Remedy
I suddenly had an idea and while my 10 year-old daughter watched the baby in the tub, I quickly made a 10x "remedy" by dropping one (1) drop of the dish soap into an 8 oz. glass of water. I gently stirred this and took one (1) drop of this water and added it to a 16 oz. bottle of spring water (after I'd emptied out about 1/4 of it). I succussed (shook) it 10x and emptied all but a tiny bit, refilled it, and then succussed (shook) it again. I did this 10 times.
There was never enough of the original "soap water" to make soap bubbles and after diluting it 10 times I was confident it was safe to use as a rinse.
Being a photographer, I always have my camera nearby, and I decided to take a before picture to see if it made any difference. I then poured about 1/2 of the solution over the baby's eye and forehead. She was *not* happy!
But… within about 15 seconds her eye opened and the redness went down a little…
About 8 minutes later, the eye was completely open and the redness was much better! I took her out of the tub, dried her off, and within 30 minutes, the eye was completely better and the baby was happy again!!! Hooray!
Originally, I thought this was technically an isode because it was using the same substance that caused the problem. But as kind reader Patty informed me it is truly homeopathic – and the most similar. Patty pointed out 379.1 in Chronic Diseases which states it does not remain the same once it is diluted and potentized. I did not give more Palmolive but a remedy made from it. (Thanks Patty – see her comments for detail.)
Having a digital camera I was able to record the timing between pictures. Have a look-see below!
The baby is down for a nap and I'm off to go scrub fluorescent green dish soap off my walls!
Picture 1 – Pre-remedy but about 30 minutes post washing the eye with water.
Picture 2 – 15 seconds after remedy wash.
Picture 3 – 8 minutes after remedy wash.
Picture 4 – 30 minutes after remedy wash.
Picture 1 – Poor baby! Before remedy but after 30 minutes of washing eye with water.
Picture 2 – hey, it's open! (15 seconds after remedy).

Picture 3 – Wow, it's working! Smiling! (8 minutes after remedy).

Picture 4 – All better Mommy! Hooray! (30 minutes after remedy).

Close-ups
Pic 1 – Pre-remedy.

Pic 2 – 15 seconds post-remedy.

Pic 3 – 8 minutes post-remedy.

Pic 4 – 30 minutes post-remedy.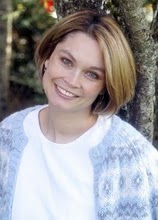 Erica McPhee graduated Phi Beta Kappa, Magna Cum Laude from the University of New Hampshire in 1991. She worked as a Sr. Human Resource Analyst before leaving the corporate world to start her own lettering and design business at home while raising her children. While her design work rapidly gained favor amongst celebrities and high society for elaborate hand-lettered invitations and social correspondence, at the same time her young son was diagnosed with autism. This began a life-changing journey which led her to study homeopathy after her son's dramatic recovery using a homeopathic remedy.
Reposted with written permission. Please see Erica's original 2007 blog post here, and view her blog here.
[If you wish to understand the theory behind homeopathy, you can read more here about why I have started to care more and more for our family homeopathically instead of going to the doctor for most things. Today, staying out of the hospital, the medical system in general, is wise for so many reasons.]
Something Mysterious Saved the Lives of the Children
The Hospital Protocol Is What Is Killing Covid Flu Patients
***For the Full Spike Protein Protocol (including NAC) to protect from transmission from the "V" and to help those who took the "V", go here.
Deep Roots At Home now has a PODCAST! We are covering everything from vaccines, parenting topics, alternative medicine. Head over today and like, share and download a few episodes! https://buff.ly/3KmTZZd
I am once again being heavily shadow-banned over on FB. If you want to stay connected, here is one way…
Medical Disclaimer: I am no longer a practicing medical professional, and I am not doctor. I am a mother. I do seek scientific confirmation of the safety and effectiveness of the herbs and remedies I use. Using remedies is a personal decision. Nothing I say on this blog is intended to treat or prevent disease. Consult your own doctor.
©2023 Deep Roots at Home • All Rights Reserved