Fauci and his buddies in Pharma profit massively from sickness — more than they ever could from good health. Now that he's retired, here is some of the astounding and criminal history.
Like the story of polio, the disease that never was, there is much to be learned.
Fauci's career exploded during the early AIDS crisis as he partnered with pharmaceutical companies. Together, they sabotaged safe and effective off-patent therapeutic treatments for AIDS (similar to what he did during Covid). During that time, Fauci directed fraudulent studies, and then pressured FDA regulators into approving a deadly chemotherapy treatment he knew to be worthless against AIDS.
The FDA deemed AZT too toxic for human use. Many researchers today argue AZT killed far more people than AIDS.
AZT, according to SPIN magazine, is a drug that "was worse than the disease, and killed faster than the natural progression of AIDS left untreated." (It's a fascinating read by Celia Farber on AZT's shocking approval.)
Fauci repeatedly violated federal laws to allow his Pharma partners to use impoverished and dark-skinned children as lab rats in deadly experiments with toxic AIDS and cancer chemotherapies. So, in 2005, Congress cited his agency for outlaw experiments on Black and Hispanic orphans in foster homes in New York and six other states.
What Robert F. Kennedy, Jr. reports here is not speculation.
2 minutes:
According to journalist Celia Farber, as quoted in "The Real Anthony Fauci":
"I found the mass grave at Gate of Heaven Cemetery in Hawthorne, New York. I couldn't believe my eyes. It was a very large pit with AstroTurf thrown over it, which you could actually lift up. Under it one could see dozens of plain wooden coffins, haphazardly stacked. There may have been 100 of them. I learned there was more than one child's body in each."
Based on the findings of investigative journalist Liam Scheff, the gut-wrenching documentary exposed Fauci's torturous clandestine medical experiments on HIV-infected children in the care of Incarnation Children's Center (ICC).
In his book, Kennedy asks: "What dark flaw in Anthony Fauci's character allowed him to oversee — and then to cover up —the atrocities at Incarnation Children's Center? At very best, there must be some arrogance or imperiousness that enables Dr. Fauci to rationalize the suffering and deaths of children as acceptable collateral damage in what he sees as his noble search for new public health innovations. At worst, he is a sociopath who has pushed science into the realm of sadism. Recent disclosures support the latter interpretation."
'Guinea Pig Kids': Fauci's Legacy of Cruel Experiments on Kids
Watch the 25 minute BBC Documentary 'Guinea Pig Kids'
And Fauci (alongside Gates) has a documented long list of unethical and genocidal experiments on Africans which caused tragedy across the continent, particularly for children and pregnant mothers.
Just a few of the cruel and grisly experiments funded by Fauci:
Judicial Watch

reported new FDA records documenting

purchases of fetal organs, heads and tissue (human baby hair) for the 'Humanized Mice' Project.
Beagles (the dog) were sedated and had their heads placed in meshed cages alongside starved sandflies. It doesn't take a genius to work out what happened next. The dogs were eaten to death alive. Then they repeated the test outdoors, with beagles placed in mesh cages outside in the desert for nine nights. The test was related to ZVL, a disease that can be transmitted to humans and dogs that is very common in sandflies in Tunisia.
Monkeys had parts of their brains damaged with acid in order to increase their capacity for terror, and were then tormented with simulated spiders, snakes and other things they instinctively fear. These experiments have been ongoing for more than four decades

.

Beagles were infected with pneumonia in order to induce septic shock and "experimental massive acute hemorrhage," then given blood transfusions. "After 96 hours, animals still alive were considered survivors and were euthanized." (source)
Monstrous. Fauci is indeed a monster!
Fauci has steadily failed upward. His legacy is a nation that uses increasingly more pharmaceuticals, pays nearly three times more for prescription drugs than people in dozens of other countries, and has worse health outcomes and a sicker population than other wealthy nations.
As director of the National Institute of Allergy and Infectious Diseases (NIAID), Dr. Anthony Fauci dispensed ~$6.1 billion in annual taxpayer-provided funding for scientific research.
Fauci used the fantastical financial clout to wield immense influence over universities, hospitals, thousands of influential doctors and scientists and their print journals — whose careers and institutions he has the power to advance, reward or ruin. These same doctors appear on network news shows, publish on the op-ed pages of influential media, and craft and defend the pharmaceutical cartel's official narratives.
Forgotten is the traditional mission of researching the causes behind the exploding epidemics of allergic and autoimmune diseases. The chronic diseases Congress charged NIAID with preventing rose from 1.8 % among children when Fauci came to NIAID in the 1960s, to 54% today.
Instead, Fauci transformed NIAID from a world-class protector into a product incubator for Big Pharma by developing new drugs and vaccines for which he, his agency and his employees often share patents and royalties.
Each of the vaccines funded by Fauci and Bill Gates — polio, DPT, malaria, meningitis, tetanus and HIV — likely caused far more injuries and deaths around the world than they averted.
Today, prescription drugs are America's third leading cause of death, yet many were co-developed by the NIH during Fauci's tenure at the NIH's NIAID.
Catherine Austin-Fitts wrote, "During the so-called AIDS epidemic, Fauci's promotion of AZT is estimated to have killed 330,000 gay men. The majority of American children (54%) now have chronic disease, and American children have lost seven IQ points since 2000. U.S. life expectancy is falling, with a widening gap of nearly five years between the U.S. and its peers. Meanwhile, the American people have experienced a growing number of pandemic "scares" including bird flu (2005), swine flu (2009) and Zika (2015-2016), in order to sell novel vaccines, helping to justify an ever heavier schedule of "vaccines" and pharmaceutical profits. (Source) (John Lauritsen's book "Poison by Prescription")
The carefully constructed Pharma-Fauci-Gates alliance:
RFK, Jr. states, "In early 2000, Fauci shook hands with Gates in the library of Gates' $147 million Seattle mansion, cementing a partnership that would aim to control an increasingly profitable $60 billion global vaccine enterprise with unlimited growth potential.
"In 2009, Gates stood before the United Nations and declared the "Decade of Vaccines." He committed $10 billion to build a regulatory, political, media and brick-and-mortar infrastructure with the goal of inoculating the entire global population with multiple jabs by 2020.
"Through funding leverage and carefully cultivated personal relationships with heads of state and leading media and social media institutions, the Pharma-Fauci-Gates alliance exercises dominion over global health policy.
"Gates and Fauci now wield far-reaching influence and unprecedented power to shut down the global economy, abolish civil and constitutional rights, impose police state surveillance and engineer the greatest upward shift of global wealth in human history."
Laying It Bare
In "The Real Anthony Fauci", RFK, Jr. lays bare how Fauci, Gates and their collaborators:
made a series of prescient predictions about the imminent COVID-19 pandemic — almost to the day.
invented and weaponized a parade of fraudulently concocted global pandemics, including bird flu (2005), swine flu (2009) and Zika (2015-2016), in order to sell novel vaccines, enrich their Pharma partners and increase the power of public health technocrats and Gates' entourage of international agencies.
used "gain-of-function" experiments to breed pandemic superbugs in shoddily constructed, poorly regulated laboratories in Wuhan, China, and elsewhere — conditions that almost certainly guaranteed the escape of weaponized microbes, in partnership with the Pentagon, the Chinese military and a shady cabal of bioweapons grifters.
teamed with government technocrats, military and intelligence planners, and health officials from the U.S., Europe and China to stage sophisticated pandemic "simulations" and "Germ Games." Exercises like these, encouraged by the Global Preparedness Monitoring Board, laid the groundwork for imposition of global totalitarianism, including compulsory masking, lockdowns, mass propaganda and censorship, with the ultimate goal of mandating the coercive vaccination of 7 billion humans.
practiced, in each of their "simulations," psychological warfare techniques to create chaos, stoke fear, shatter economies, destroy public morale and quash individual self-expression — and then impose autocratic governance.
Anthony Fauci is what Hannah Arendt termed a "schreibtischtäter" or "desk killer." I thought I had a good sense of the harm Fauci has done as director of NIAID since 1984. Now I believe he may be the most dangerous man alive.
James Corbett, "The Corbett Report," journalist and researcher, interviewed Robert F. Kennedy, Jr.
Start at 33:00-36:30 if time is an issue.
Fanning the Fear of Covid…
Gates and Fauci engaged in almost daily communications throughout the lockdown, and coordinated virtually every decision about COVID-19 countermeasures.
They inspired, in their hostages, gratitude towards their captors (Stockholm syndrome), and the belief that total obedience and unquestioning submission to an experimental, shoddily tested, fast-tracked, zero-liability COVID vaccine was their only hope for safe escape from captivity and "return to normal."
Predictably, Fauci's policies resulted in the U.S. accounting for 20% of the world's COVID deaths, despite making up only 4.2% of the global population — another example of Fauci failing upward.
As RFK, Jr's book makes clear: "Fauci's COVID policies also spawned a new insidious authoritarianism — and propelled America down a slippery slope toward a grim future as a dark totalitarian security and surveillance state."
[With excerpts by Robert F. Kennedy, Jr.]
Humanized Mice, Etc.: Reasons Our Nation is Under Chastisement
Doctors Offit, Hotez, Fauci Warn Vaccine May Trigger Lethal Immune Rxn
Did Gov't Sway Evangelical Leaders to Promote the Jab to Churches?
"Whoever would love life and see good days must keep their tongue from evil and their lips from deceitful speech.
They must turn from evil and do good; they must seek peace and pursue it.
For the eyes of the Lord are on the righteous and his ears are attentive to their prayer,
but the face of the Lord is against those who do evil." ~1 Peter 3: 10-12
***For the Full Spike Protein Protocol (including NAC) to protect from transmission from the "V" and to help those who took the "V", go here.
Deep Roots At Home now has a PODCAST! We are covering everything from vaccines, parenting topics, alternative medicine. Head over today and like, share and download a few episodes! https://buff.ly/3KmTZZd
I am once again being shadow-banned over on FB. If you want to stay connected, here is one way…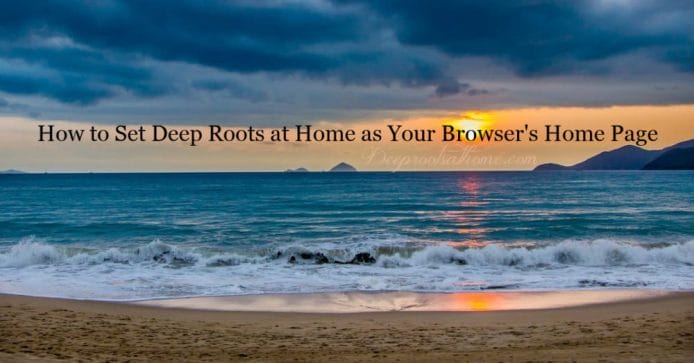 Medical Disclaimer:
I am no longer a practicing medical professional, and I am not doctor. I am a mother. I do seek scientific confirmation of the safety and effectiveness of the herbs and remedies I use. Using remedies is a personal decision. Nothing I say on this blog is intended to treat or prevent disease. Consult your own doctor.

Get your free copy of the Vital Vaccine Info E-Book
©2023 Deep Roots at Home • All Rights Reserved