In testimony before a Senate Committee, Under Secretary of State Victoria Nuland admitted Ukraine has "biological research facilities" which Russian forces may be seeking to gain control of.
My hunch is that (if something is released) whatever they release, it will have been altered through gain-of-function to be more virulent, as was the "novel" coronavirus.
It's difficult to plan for something if we don't even know what we're planning for, but there are some good things to know.
Like the main protocol and antidote for smallpox or the historical herbal smallpox remedies incl. sarracenia purpurea, there are SPECIFIC preventions and antidotes for the bleeding of hemorrhagic fever, too.
Looking at the onset stage of Ebola, or any hemorrhagic fever, it resembles the common symptoms of 'flu:
Sudden onset of fever
Intense weakness
Muscle pain
Headache
Sore throat
As the virus develops we see:
Vomiting
Diarrhea
Skin rash
Impaired kidney/ liver function
Internal and or external bleeding
Beyond this, the patient either dies or recovers, depending on their susceptibility and level of care given.
Here are some of my thoughts if you wish to prepare:
Nebulize Nanosilver & Iodine
As we saw with treating covid, having a nebulizer in every home is really wise.
A 2009 DOD study found that Nanosilver Inhibits Ebola Virus, but the fact was never reported to the public as a viable therapeutic. Rima E. Laibow, MD, tried to alert the public to the DoD report, but it was quickly suppressed. She did exactly what I would have done, yet the FDA ordered her to stop.
This PubMed study agrees and is representative of others you can find if you dig deep enough. Example, this study reveals nanosilver is indeed effective against arenaviruses (yes, that's the correct name) including hemorrhagic fever-inducing viruses.
In the event of exposure to Ebola (or any hemorrhagic fever virus), immediately and regularly nebulizing with nanosilver into the lungs, is an effective way to get it into the bloodstream, cells and tissues of the human body quickly and effectively – faster than oral ingestion.
This is the nanosilver we use (10PPM), but there are other good ones here and here. Stay at 10PPM.
Indeed, were I to suspect that I'd just been exposed to a person infected with any hemorrhagic fever virus, the first thing I'd do would be to nebulize nanosilver.
I would also nebulize hydrogen peroxide (HP) alternating every other day using Dr. Mercola's protocol because it saved many lives during covid. You can also add Lugol's 2% to it, as Mercola recommends.
Use Iodine as Nasal Swab or Gargle to Halt Transmission
This study shows 0.5% povidone-iodine exhibits "high ..virucidal activity ..against viruses of significant global concern" and "significantly reduces viral load in the oral cavity and oropharynx".
0.5% povidone-iodine solution (made by diluting 10% solution) can be used inside the nose with a cotton swab, nasal irrigation or spray that they can be swished in the mouth for 60 seconds to kill the virus.
Povidone-iodine is not for oral consumption, while Lugol's is.
Readily Available Homeopathics for Viruses in general:
Here is what Joette Calabrese shared for viruses (in general):
"This is what I have consistently seen to be successful for both my family and many of my clients.
(What Joette states next has been substantiated from historical records here, including the 3 most used remedies for viruses below. Note: the homeopathic hospitals that treated victims of the 1918 flu pandemic had a mortality rate of less than 1% while the mortality rates in conventional hospitals were 30-60%! See the quote in the historical records by Dr. William A. Pearson, 1919)
"At the first onset of a virus with typical cold symptoms, the Banerji Protocol for cold and cough of Aconitum 200 mixed together in the mouth with Bryonia 30 has proved to be very powerful. We used it every 15 minutes or so for the first 3-4 doses and then backed off to every 3-4 hours. As we began feeling better, the frequency slowed to every 5-6 hours (and so on).
"Why is this such a winning combination? Aconitum (Aconite) is for quick onset (as well as addressing pneumonia), and Bryonia is good for flu, colds and lung infections. After a few days, Gelsemium 30 alone may be used in the same fashion.
"If the illness starts with aches and fever, I use Eupatorium perfoliatum 30 in the same fashion.
"If it begins with crushing fatigue, use Gelsemium 30 (also in the same manner).
"Many find success with Thuja occidentalis 30. Thuja is an excellent fit because it is specific for viruses.
"Read your materia medicas to understand the action of each remedy better so you can make well-advised choices for your family as the illness evolves.
"And remember in regard to potency: use what you've got until you get what you need!!!"
***For the Full Spike Protein Protocol (including NAC) to protect from transmission from the "V" and to help those who took the "V", go here.
SPECIFIC Homeopathic antidote/preventative for hemorrhagic fever
Crotalus hororridus (timber rattlesnake venom) is a homeopathic remedy with a strong history of use.
Here's the section on Crotalus-h by William Boericke (1849 – 1929). Note the many references to hemorrhage and bleeding from numerous orifices. It is also the remedy for "scarlet fever; yellow fever, and cholera".
Crotalus h. is excellent for any case of copious bleeding through any orifice.
I ordered Crotalus-h 30C and 200C from Helios in the UK in the form: #3, size: 8 gm (with plenty to share), in both potencies: 30c and 200c. They are VERY INexpensive!
Here is how my homeopathic friend first communicated to me: "Aconite and Bryonia are excellent for acute viruses, but since hemorrhagic fever is bleeding, quickly go right to Crotalus. I'm sure more detail will come out about it. Own both of these potencies. I'm sure it will be only one of them. She said just have both. Not sure the frequency (how often) yet. However, you always meet the frequency of the medicine with the intensity of the condition. So I'm thinking if someone is bleeding out, you would give it pretty often until you see things slow down, and then you would 'open up' (meaning extend) the time between doses. I just think everything is so uncertain right now. I'm sure major homeopaths are discussing this and trying to come up with a more specific plan. These biological viruses have been well-crafted."
Homeopathy works on the principle of "like cures like." Something that in large doses (ex. rattlesnake venom), creates the symptoms of a condition (hemorrhaging/bleeding) will, in very small doses, treat it.
Vickie Menear, M.D. and homeopath, who found that the remedy that most closely fit the symptoms if the 1914 "flu" virus (Crotalus-h) also fit the Ebola virus (a hemorrhagic fever) nearly 95% symptom-wise". (this whole page is informative).
For Children, Babies and Use in Pregnancy:
Homeopathics are considered safe for all ages. Babies, children and adults can all have the same sized dose of a remedy without any risk of toxic effects or addiction. (source) Read this for questions about use in pregnancy. I would, at least, use the cell salts during pregnancy to strengthen every level of your immune system.
Anthocyanins May Block "Engineered" Hemorrhagic Fever in Our Blood
A deadly over-expression of CD38 glycoprotein is purported to be the result of exposure to a hemorrhagic fever virus or nanoparticle attack.
Anthocyanins could halt it, thereby preventing death. (source)
Dr. J.E. Williams reveals how to regulate/suppress CD38 production using anthocyanins found in high levels in black currents, elderberries, blackberries, acai berries, aroniaberries (chokeberries), dark purple grapes, raspberries, blueberries (esp. wild), red cabbage, purple corn, purple rice, and the red algae found in astaxanthin.
These is what I purchased for our extended family. (I share the links below so you can read about them.)
Sources: Aronia (chokeberry) powder, Black Currant Berry extract powder, Acai powder, Berry Power, elderberries(dried), Astaxanthin, Hawaiian spirulina, Peruvian purple corn powder. Also forbidden rice.
This post contains a lot more foods.
There is no down side to consuming more anthocyanins as a prevention strategy against the possibility of exposure to any new biological weapon.
Lastly, I'm a big believer in regular detox/chelation you can do at home to strengthen my and my family's immune systems. Decreasing our toxic load, helping to alkalinize our cells, and activating the P21 gene which is appears to halt the growth of tumors by directly suppressing growth signals (since cancers are raging back after the covid "vaccine"), is a great strategy. Learn why pure Advanced TRS is more effective than any earth-mined zeolite product.
Let's hope this latest scare story turns out to be just that. Build your immune system regardless.
"God is our refuge and strength, a very present help in trouble." ~Palm 46:1
***For the Full Spike Protein Protocol (including NAC) to protect from transmission from the "V" and to help those who took the "V", go here.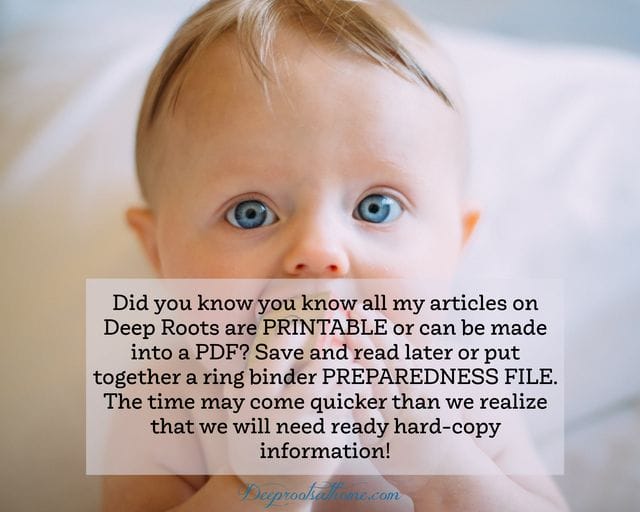 Medical Disclaimer:
I am no longer a practicing medical professional, and I am not doctor. I am a mother. I do seek scientific confirmation of the safety and effectiveness of the herbs and remedies I use. Using remedies is a personal decision. Nothing I say on this blog is intended to treat or prevent disease. Consult your own doctor.
©2023 Deep Roots at Home • All Rights Reserved